June 04, 2019
(Editor's note: This is an updated post from February 2016.)
Lotions and creams are no substitute for the treatment your health care provider recommends for treating your psoriasis, but they are an easy way to combat some of the symptoms associated with the disease, like itching and flaking.
Not all lotions are created equal, however. Many contain chemicals, fragrances and dyes that could irritate your skin, so please choose wisely. Essential oils, for example, which scent many face and body products – even those formulated for sensitive skin – can irritate some people's skin.  
The National Psoriasis Foundation Seal of Recognition highlights products that are meant to be safe and non-irritating. No one deserves to suffer the itch and burn of skin impacted by psoriasis.
Remember: What works for some people may not work for everyone. Always consult with your health care provider to find a product that works for you. You can learn more about maintaining healthy skin with our free Skin Care E-Kit.
Antü Brightening Moisturizer
This restorative daytime moisturizer also protects the skin by defending against exposure to airborne particulate matter pollutants.  It is made with their patented, anti-oxidant-rich AntuComplex™ and is clinically proven to hydrate skin and refine the appearance of pores. This moisturizer is vegan and cruelty-free.
CeraVe Psoriasis Cream
Developed with dermatologists, CeraVe Psoriasis Skin Therapy Moisturizing Cream treats psoriatic skin symptoms while moisturizing and repairing protective skin barrier. It removes scales and dead skin and helps restore essential moisture while helping to prevent the recurrence of the symptoms of psoriasis.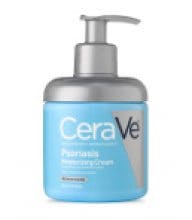 Recent Advance Articles

Many Voices, One Mission: Nehal N. Mehta

Public Health and Psoriatic Disease

Biosimilars