June 04, 2019
(Editor's note: This is an updated post from February 2016. With all the extra handwashing due to COVID-19, we wanted to offer some relief for extra-dry hands)
Wintertime can be extra rough on our skin because the cold, dry air makes it harder to stay moisturized. Lotions and creams are no substitute for the medication your doctor recommends for treating your psoriasis, but they are an easy way to combat some of the symptoms associated with the disease, like itching and flaking.
Not all lotions are created equal, however. Many contain chemicals, fragrances and dyes that could irritate your skin, so please choose wisely. Essential oils, for example, which scent many face and body products – even those formulated for sensitive skin – can irritate some people's skin.  
Here are a few good options we've heard about based on dermatologist recommendations.
Remember: What works for some people may not work for everyone. Always consult with your health care provider to find a product that works for you.
Aveeno Anti-Itch Concentrated Lotion 
Packed with anti-oxidant, anti-inflammatory compounds called avenanthramides, the humble oat has long been a Farmers' Almanac go-to for soothing minor skin irritations like poison ivy, bug bites and sunburns. Aveeno's Triple Oat Complex provides temporary relief for itch, while enhancing the moisture barrier of sensitive skin.
CeraVe Moisturizing Cream
Our skin naturally contains waxy lipid molecules called ceramides, which are found within the membranes of our cells. Scientists believe they play a role in restoring the skin's protective function and that depleted ceramide levels can be linked to dry skin. CeraVe Moisturizing Cream is formulated with three types of ceramides that help lock in moisture.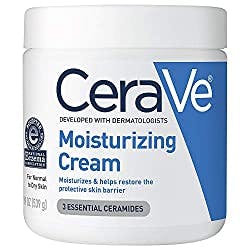 Cetaphil Moisturizing Lotion
This "no frills" moisturizer is oil-free, fragrance-free and non-comedogenic, meaning it's designed to absorb into the skin quickly and easily without clogging pores, feeling greasy or leaving behind a scent. 
Curél Hydra Therapy Wet Skin Moisturizer
This product is activated by water and designed to be used on freshly-showered skin. The shea butter-based lotion helps repair the skin's moisture barrier with a mix of ceramides and is greaseless and fragrance-free. 
Dermarest Psoriasis Medicated Treatment Gel
This fragrance-free gel helps to remove scales, eliminate itching, reduce redness and restore moisture.
Eucerin Skin Calming Itch Relief Treatment
This fragrance-free lotion contains cooling menthol and soothing oatmeal to help relieve and calm itch. Although it wasn't created for people with psoriasis, its ability to "help relieve night-time itching," according to the manufacturer, might appeal to people with psoriasis who know this problem all too well.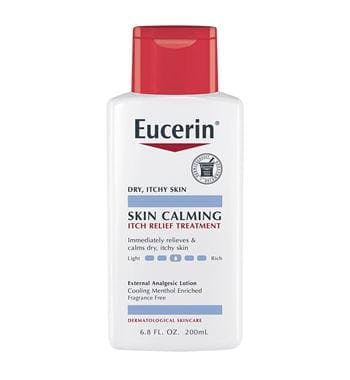 Gold Bond Ultimate Psoriasis Relief Cream
This fragrance-free cream designed for skin affected by psoriasis mixes seven moisturizers with ceramides and salicylic acid.
Lubriderm Intense Skin Repair Lotion
One of the more "hardcore" moisturizers under the Lubriderm brand, this heavy-duty lotion contains Lubriderm's patented Hydrarelease technology, which the company claims promotes fast absorption while keeping skin moisturized for up to 24 hours.  
MG217 Medicated Salicylic Acid Cream
This is another lotion created specifically for people with psoriasis. Infused with salicylic acid, this moisturizer is meant to be used alongside MG17's Coal Tar Ointment. The salicylic acid helps loosen and remove scales, while the coal tar helps slow down production of skin cells.  
Sarna Anti-Itch Lotion
Made for dry, sensitive skin, this steroid-free lotion provides temporary relief of itching associated with minor skin irritations. It contains 1% pramoxine hydrochloride, a topical anesthetic that helps stop nerves from sending pain signals.
Neutrogena Norwegian Formula Moisture Wrap Body Lotion
Touting itself as the "No. 1 Dermatologist Recommended" skincare line, Neutrogena's Norwegian Formula Deep Moisture Body Lotion quenches thirsty skin with a powerful combination of moisturizing agents designed to penetrate deep into the epidermis.