April 09, 2020
Managing your psoriatic disease can be a full-time job. From overcoming the pain and discomfort of everyday life to making constant doctor visits, establishing healthy eating habits might not be on the top of your to-do list.
However, making smart choices when it comes to mealtime is a vital part of staying ahead of comorbid conditions associated with psoriatic disease, like heart disease, diabetes and obesity.
Need a jump-start to a healthier you? Take a look at some of our tasty and healthy recipes that will help you live a well-balanced life.
Balsamic Veggies with Chipotle Polenta
Servings: 4 (200 calories per serving)
Ingredients:
16 ounces chipotle polenta
2 tablespoons all-vegetable butter substitute
1 pound asparagus washed, trimmed and cut into 1-inch pieces
8-10 ounces cherry tomatoes, washed and halved
8 ounces sliced fresh mushrooms
¼ cup pine nuts
Salt and pepper
½ cup shredded mozzarella cheese
Balsamic vinegar
Instructions:
If making your own polenta, prepare it the day before and refrigerate overnight. Melt 1 tablespoon of the butter substitute in a 12-inch skillet.
Slice polenta into about 12 squares or rounds and sauté pieces over medium heat for 8 to 10 minutes or until lightly browned, turning once.
Transfer polenta to serving plate. Add remaining 1 tablespoon butter substitute to skillet. Sauté asparagus, cherry tomatoes, mushrooms and pine nuts until asparagus is tender. Add salt and pepper to taste.
Spoon sautéed veggies over polenta slices, sprinkle with mozzarella and drizzle with balsamic vinegar.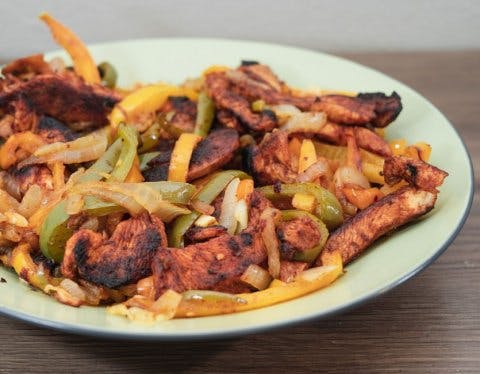 Make-Ahead Chicken Fajitas
Servings: 4 (165 calories per serving)
Ingredients:
2 pounds boneless, skinless chicken breasts, cut into strips
2 medium-sized sweet bell peppers in a mix of colors, sliced
1 large sweet yellow onion, sliced
2 large cloves garlic, minced
1 tablespoon honey
2 tablespoons lime juice
1 tablespoon chili powder
2 teaspoons cumin
1 teaspoon paprika
¼ teaspoon crushed red pepper flakes
Instructions:
Combine all ingredients in a gallon-sized plastic freezer bag and freeze for up to three months.
When ready to eat, thaw overnight in refrigerator, then cook in a slow cooker on low for 4 to 6 hours.
Alternatively, cook in a large pan on stovetop on medium-high for 10 to 15 minutes, or until chicken is cooked through and peppers are tender.
Serve on tortillas or rice – alone or with your favorite fajita toppings.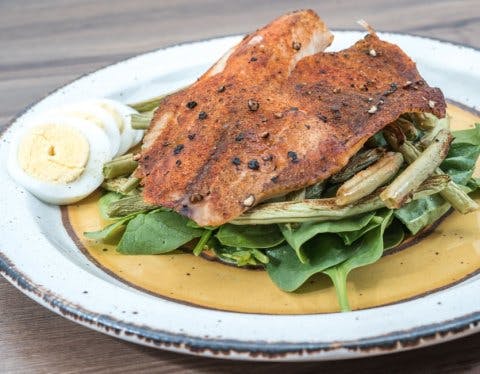 Baked Tilapia Dressed with Greens
Servings: 6 (485 calories per serving)
Ingredients:
3 lemons
6 tilapia fillets
12 ounces fresh green beans, cleaned and trimmed (about 2-¼ cups)
Olive oil
Smoked paprika
Pepper
Baby spinach
4 hard-boiled eggs
Dressing:
1 tablespoon sweet mustard
¼ cup balsamic vinegar
¼ cup water
¼ cup olive oil
Instructions:
Preheat oven to 375 degrees. Coat bottom of a 13-by-9-inch baking pan with cooking spray or oil. Slice lemons and layer in bottom of pan.
Place tilapia over lemons. Arrange green beans around tilapia. Drizzle a small amount of olive oil over tilapia and green beans. Sprinkle smoked paprika, pepper and any other desired spices on top.
Bake uncovered for 25 to 30 minutes.
On a platter, arrange a bed of baby spinach and top with green beans and tilapia. Slice hard-boiled eggs and place on both ends of platter.
Mix dressing ingredients and drizzle over tilapia and green beans.
Recent Advance Articles

Many Voices, One Mission: Nehal N. Mehta

Public Health and Psoriatic Disease

Biosimilars