December 23, 2021
At 25, Avery Henderson is a first-year medical school student. Choosing to go to medical school had a lot to do with her exposure to the medical field at a young age, she said.
She was diagnosed with psoriasis when she was eight years old. While she has experienced primarily plaque psoriasis, she recalls experiencing guttate psoriasis, as well as painful pustular psoriasis on her legs.
Pustular psoriasis typically affects older adults, but as Henderson has learned the hard way, this rare and painful type of psoriasis can start at any age. The symptoms of pustular psoriasis include pustules (white, pus-filled, painful bumps) that may be surrounded by inflamed or discolored skin. The pus in pustules is caused by inflammation and is not contagious. [1]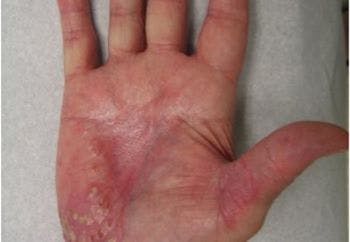 (Image curtesy of Callis-Duffin, University of Utah.)
Henderson has also developed psoriatic arthritis (PsA) and managed conditions like reflux and irritable bowel symptoms, which have resulted in many trips to many specialists over the years.
"I've experienced care that is great, and I've experienced care that is very poor. Some people don't know what it's like to be the patient and not have answers for what you're going through. It's scary and stressful. I want to help people in this vulnerable state," she said.
Recent Advance Articles

Many Voices, One Mission: Nehal N. Mehta

Public Health and Psoriatic Disease

Biosimilars