March 16, 2021
On March 17, 2016, more than 100 individuals who experience psoriatic disease spent the day in-person and virtually with the Food and Drug Administration (FDA) to share their experiences living with and managing psoriasis and psoriatic arthritis. As we mark the five-year anniversary of this psoriasis focused FDA patient focused drug development (PFDD) meeting, we take a look back on the impact of this conversation.
This day-long meeting was a rare opportunity for the community bonded by psoriatic disease to talk directly to the FDA dermatology division about living with the symptoms of psoriatic disease and using treatments to manage the disease.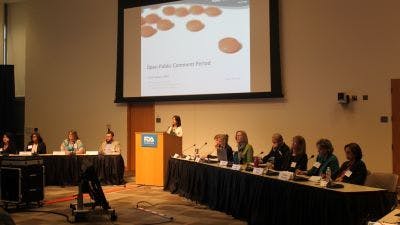 To ensure the FDA gained an understanding of the diverse experiences of people with psoriasis, NPF conducted significant outreach to our community to make them aware of the opportunity to tell their stories directly to the agency. Those emotional, impactful testimonies had a profound impact on the audience. Participants offered personal, private and never-before-shared accounts of their real-life challenges. They offered honest accounts of both the difficulties of managing the disease and the emotional toll of living with psoriasis. They served as proof that through coordinated and dedicated effort, the voice of the community can improve institutional understanding, inform future agency efforts and serve as lasting education to individuals who work in the field of psoriatic disease.
The people of our community made this among the largest and most engaged of the FDA PFDD meetings to that point. And the FDA still references this as one of the more successful meetings. NPF and its community owe a debt of gratitude to the volunteers who participated. You can read more about this PFDD in the upcoming Summer issue of NPF Advance in an article by NPF Chief Operating Officer Leah Howard, who helped organize the 2016 PFDD on psoriasis and attended the event.