September 30, 2020
Scott Lim is a doctor of osteopathic medicine and a board-certified dermatologist. He and his wife, Jessica Lim, have spent 30 years building a busy practice in Erie, Pennsylvania. He is a general dermatologist who sees many serious skin cancers, but also lesions, growths, tumors, rashes, eczema and psoriasis. He's active in many medical associations, including the Pennsylvania Academy of Dermatology and Dermatologic Surgery.
None of this prepared him for the arrival of the coronavirus and then the nationwide shutdown. What follows is the story of one front-line dermatologist and how he met the challenges of practicing medicine in the middle of a pandemic.
February: Before the Pandemic Proliferated
The first challenge Lim faced was safety. In the beginning of 2020, Lim and his staff of six treated 45 patients each day. He was preparing to hire two more people. But as the shutdown loomed, he realized that he couldn't maintain social distancing and minimize the risk of infection with so many people under one roof.
"I had to make a hard decision," Lim says. "I have to keep everyone safe and healthy. We were going to see a significant reduction in patients. So, I furloughed four full-time staff. That was painful. We're like family. In fact, that's who is left: my wife, Jessie, my daughter, Lauren [Senita], who is a nurse practitioner, and me. We're running the show."
Since he couldn't see all of his existing patients, Lim decided to not accept new ones. He also decided to open the office to patients only if they needed "serious surgery."
Shutdown: March, April and May
Lim's practice moved in two directions: teledermatology and his parking lot.
Both had their limits.
"I was doing as many teledermatology calls as possible to reassure patients concerning things like lesions, but they are often inefficient or just not possible," he says. His practice is primarily older people, many without the appropriate technology. Full-body scans, he felt, are not practical during a teledermatology visit. Lim prefers office visits, where he can control the lighting and environment, touch and use his dermatoscope, and do procedures as needed.
"But telederm[atology] during a pandemic is helpful, especially for patients who choose to stay home," he says. "For example, during this period, insurance plans covered teledermatology the same as an office visit. If the visit works, it's a bargain for the patient. And we occasionally brought someone in for a biopsy because of something I saw in my teledermatology visit."
(Learn more about what insurance options you have by requesting our free guide.)
Moving your practice to your parking lot is not ideal, either. Patients who were not in need of biopsies or serious surgeries texted Lim when they arrived. He took their temperature, examined them as best he could, and administered shots. As much as possible, they never had to leave their car. "It works better on a sunny day to see acute rashes in natural light, for example. That was better than a teledermatology visit," he says.
By the end of May, Lim was seeing 20-25 patients per day. He had canceled 700 appointments. "They were not 'urgent' as defined by the Centers for Disease Control and our professional organizations," Lim explains, but they had significant risk factors. "If they had come in, would I have found something urgent: a melanoma, a squamous cell carcinoma, a severe psoriasis flare?"
Since Lim is not seeing new patients, he hasn't started anyone on biologics. All of this makes him constantly ask, "Who is falling through the cracks?" He also found himself saying something he never thought he'd hear himself say: "Sorry, we'll have to do your check later. Don't risk coming in and giving us something, or you come in and we give you something."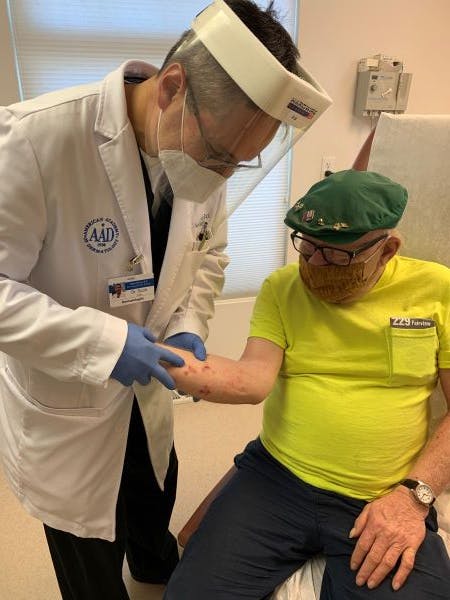 What Will Be The New Normal?
In June, Pennsylvania entered the cautious phase of reopening. Lim began seeing non-urgent cases in his office, first taking their temperature, then giving them screening questions. Lim, his wife and their daughter saw three factors governing the new health care landscape:
Triaging Patients
"I'll have to prioritize all my pending skin cancers before I can get to psoriasis and other cases that have backed up," Lim says.
Mission Impossible Scheduling
"We have no idea how we're going to fit in everybody we had to cancel in March, April and May. We're already booked for the next four months."
Staffing Questions
"When do I bring staff back?" Lim asks. "At what rate can I bring them back? How do I keep everybody safe? What happens if even one of us gets sick?
"And people ask me, what have I been doing with all my free time!" Lim says. Lim is not alone as he faces the challenges of this pandemic.