November 18, 2020
Chemokines or "breadcrumbs" as Anthony Getschman, Ph.D., a postdoctoral researcher at the Medical College of Wisconsin and principal investigator at Protein Foundry, LLC, refers to them, play a vital role in cell migration. Using a chemical gradient process (chemotaxis), chemokines help cells move around the body. One of those chemokines is CCL20, a molecule involved in the genesis of psoriasis. Established evidence has shown that the chemokine-receptor pair, CCL20/CCR6 (chemokine receptor 6), regulates dendritic and T cell trafficking to injured or infected sites. Psoriatic keratinocytes and other cells produce CCL20, which binds and activates the CCR6 protein expressed on the surface of migratory immune cells. [[1]]
In 2018, Dr. Getschman, a structural biologist and biophysical chemist, was the recipient of an Early Career Grant from the National Psoriasis Foundation (NPF) for his research that aimed to better understand how proteins interact, specifically the CCL20 locked dimer-CCR6 relationship. As an undergrad, he was focused on research with a positive impact, specifically "translational research that helps patients live better lives," he says. During his graduate work, his mentor Brian Volkman, Ph.D., introduced him to Sam Hwang, M.D., Ph.D., a clinician and leading psoriasis researcher. Collaborating with Dr. Hwang's lab, Dr. Getschman was able to apply his basic science "know-how" and protein engineering skills to good use.
During this collaborative time, Dr. Getschman began to understand Dr. Hwang's role at NPF and learned about the funding he had been previously awarded which had opened doors. With encouragement from Dr. Volkman and Dr. Hwang, Dr. Getschman started his own independent research program. He eventually applied for NPF's Early Career Research Grant, which he notes was "an easy process, and valuable, because as a young investigator, grants like this enable you to build that portfolio of research for future funding."
"While researching these chemokines is basic science, it's incredibly pertinent because if we can understand the events that lead to inflammation, then we can design treatments to be more specific and provide better drug options to patients," says Dr. Getschman.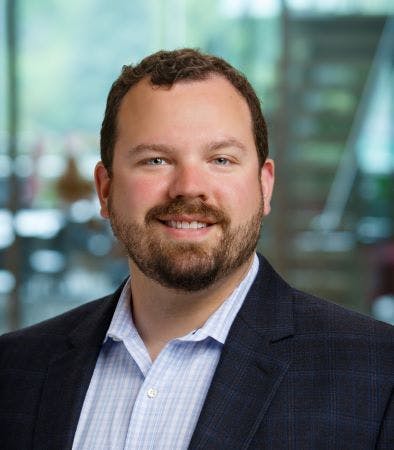 Dr. Hwang had previously identified the mechanism that CCL20 uses to direct T cells to the skin, leading to inflammation. Using this information, Dr. Getschman proposed to engineer native chemokines as a way to control cell migration and prevent inflammation. His research showed that wild type CCL20 could be engineered to form a constitutive (locked) dimer and inhibit the specific migration of CCR6-expressing cells. This protein engineering converts CCL20 "from a balanced GPCR agonist with promigratory properties to a partial agonist of CCR6 that blocks chemotactic migration and is anti-inflammatory in vivo." Findings from his research in an IL-23 dependent model of psoriasis, demonstrated that the CCL20 variant prevented psoriatic inflammation and the up regulation of IL-17A and IL-22.[1]
 "This proved to be an effective way to control inflammation in the animal models. We think we have a promising candidate and continue to gather funding and garner interest, including from the NIH," says Dr. Getschman. "There's a beautiful simplicity to this. We only change one atom, and it dramatically changes the function of CCL20." There is an advantage to this prospective treatment over small molecules, because CCL20 is a natively expressed protein in the body. "By fine tweaking native proteins, we don't expect patients to develop the anti-drug antibodies which you typically see with biologics that lead to the eventual need of finding a new, equally effective treatment. The CCL20 locked dimer is a molecule that mirrors a native protein which the body encounters continuously but at very low level."
Most recently, Dr. Getschman and the team have received funding from an NIH Small Business Innovation Research (SBIR) Phase II grant to continue their research on CCL20, and this research is much more geared towards the preclinical pathway. "There is a set path to get to an FDA approval, and the SBIR grant is focused on validating the molecule, having an effective mouse model, and optimizing the dosing schedule and safety. We also need to show that we can produce the molecule in a reproducible manner for use in clinical trials. It's a lot of work that needs support from multiple organizations like the NPF and the NIH," says Dr. Getschman.
As a young researcher, receiving the initial funding from NPF has had a huge impact on Dr. Getschman's career. "This funding provided an opportunity for me to continue to do this important research. It provides recipients with so much support and the validation that comes with that support. This is especially important as a young investigator, when you are still wondering if you have good ideas. And then the NPF comes and not only supports your ideas but also validates your scientific goals. Its encouraging and appreciated."
[1] Getschman AE, Imai Y, Larsen O, et al. Protein engineering of the chemokine CCL20 prevents psoriasiform dermatitis in an IL-23-depedent murine model. Proceedings of the National Academy of Sciences. Nov 2017, 114 (47) 12460-12465; DOI: 10.1073/pnas.1704958114. Accessed October 30, 2020.