October 07, 2020
From an early age, bicyclist Mandy Marquardt was destined for greatness. At 11, she was living in Fort Lauderdale, Florida and bringing home hardware – winning two gold medals at the 2003 U.S. Junior Women's 10-12 Road National Championships in the criterium and time trial.
Her impressive young career didn't stop there. Marquardt, who splits her time between Allentown, Pennsylvania, and Mannheim, Germany, moved back to Europe with her father to get the racing experience needed to take her skills to the next level. It didn't take long. At age 16, she won a bronze medal in the German Junior Nationals. However, that's when her journey took a turn.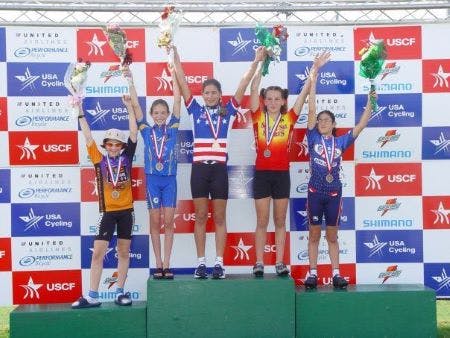 The next year, when undergoing routine testing and bloodwork, Marquardt was hospitalized with elevated blood sugar. After a two week stay, she was diagnosed with type 1 diabetes.
"One of my doctors told me that due to my diabetes, I would never be able to compete again at a high level," says Marquardt.
The news hit her hard. She had no track to follow, not knowing any other professional athletes with a chronic disease like hers who had continued with the sport. Thankfully, her supportive family was there to pick her up, dust her off and get her back on two wheels. "My parents were a very positive force for me and told me, 'You'll get back on the bike,'" she says. Her response: "All right, I can do this. The bike has always been my happy place."
Marquardt took her diabetes seriously, and thanks to her determination and a team of great medical professionals, she stayed in the saddle, competing at a national level a year after her diagnosis. She also discovered that she wasn't alone.
In 2010 at age 18, Marquardt joined a global all-diabetes cycling team, then called Team Type 1, now called Team Novo Nordisk. As currently the only female member of the team, she uses her spotlight to inspire, educate and empower everyone affected by diabetes and to be a role model for young female athletes.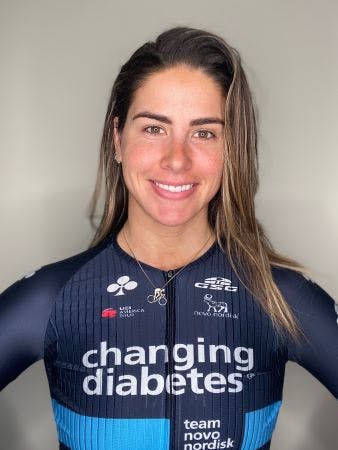 Psoriasis Enters, Confidence Drops
Around this time, Marquardt's bicycling career was challenged by another obstacle. She started noticing an issue with her scalp, which she first thought was dandruff. "I didn't really think anything of it, and my dermatologist recommended a soap for me to try to clear it up," she says.
Marquardt says the soap didn't help, and because it was difficult to get a dermatologist appointment, she tried to put it out of her mind. Instead, she decided to focus on her training. But even when she needed to keep her attention on the track, scalp issues kept creeping to the forefront of her thoughts. "I was starting to get really self-conscious because I was getting dandruff all over my clothes. I found that stress really affected me, making the dandruff worse and making my scalp incredibly itchy. It was taking away my emotional energy," she remembers.
The "dandruff" (later diagnosed as psoriasis) was something she dealt with for a good portion of a decade, jumping from treatment to treatment with little to no change. It wasn't until 2018 that she found something that helped her and her scalp. She was prescribed an oral systemic treatment, to which she responded positively.
"I started to notice right away that I had more confidence and energy. I wasn't having to dust off my shirt all the time, and I didn't have to worry about my hair. I also didn't have the stress and anxiety that I used to have," she says.
(Learn more about how to manage the emotional impact of psoriatic disease by requesting our free quick guide.)
Marquardt says the National Psoriasis Foundation (NPF) also played a big role in helping her out. She wasn't sure how to talk about her scalp psoriasis with others, so she found some of the organization's materials incredibly helpful for communicating with her doctors and loved ones about her disease. NPF's Seal of Recognition list of over-the-counter products also gave her some guidance in finding a shampoo that was safe and effective for her scalp psoriasis.
While Marquardt, 28, is thankful that she found a treatment that has kept her scalp clear over the past few years, she was taken aback at just how expensive the medication is, especially in the United States. "I get my treatment from a local specialty pharmacy, but the medication costs about a third in Germany," she says. She also was shocked to see that even at the reduced German price of the medication, it was still more expensive than her insulin, which keeps her alive.
"That's just crazy to me. I wish it was more affordable. I'm lucky that I have the option to go to a specialty pharmacy, but many people don't have that option," she says.
 Marquardt has spent 10 years being a champion for those with type 1 diabetes. Now she also wants to help bring some attention to issues like access to care for those with psoriatic disease. So, don't be surprised if you see her at the next Team NPF Cycle event. She'll be the one passing you by.
Marquardt, an 18-time U.S. national champion and two-time American record holder, was named to the 2020 Olympic track cycling long team for USA Cycling. She is training hard in the hopes of being selected for the final team to represent Team USA at the Tokyo Olympics next year.