March 14, 2022
Living with psoriasis and wearing the latest fashions can present unique challenges. Dry, cracked skin can bleed, and many topical treatments can leave stains on clothing.
"You could get a closet full of red [clothes], but that would not be practical!" joked Alisha Bridges on a recording of the National Psoriasis Foundation (NPF) Healthier Together Community Conference last fall, where she presented on style and fashion along with fellow NPF volunteer Sabrina Skiles.
Hailing from Atlanta, Georgia, Bridges is a writer, public speaker, media consultant, health advocate, comedian, and fashionista. She was diagnosed with psoriasis at age 7, which was also when the dread, fear, and embarrassment of being seen in public kicked in. For a long time, fashion was a way for Bridges to hide and to distract society from the psoriasis lesions that covered almost 90% of her body. Getting dressed for the day was a mixture of tricks and torture that seemed necessary for her to survive out in the world.
"I was the kid that wore long sleeves in the summer," Bridges says. "My self-expression through fashion was hampered when I was younger.
"So many of my fashion choices growing up were contingent on my skin and how much I wanted to reveal to the world," she recalls. She describes a time when she had to wear a skirt and skin-toned tights, but her lesions still showed through the sheer tights. She ended up wearing four pairs of tights over each other, cutting the toes off so she could walk in her shoes.
Rude comments and disgusted stares can be a common occurrence for people living with psoriasis. Bridges believes this reflects the struggle some people have trying to relate to someone different, reducing their empathy and compassion.
"I don't take it personally," Bridges says. "Those people will be faced with adversity someday. Life is the biggest teacher."
It wasn't until she was 23 that Bridges became more comfortable in her skin and her fashion choices, declaring on social media that she was saying goodbye to the self-hate she associated with her skin, lesions and all. The post quickly racked up 150,000 views, and comments flooded in. This was the beginning of Bridge's psoriasis advocacy.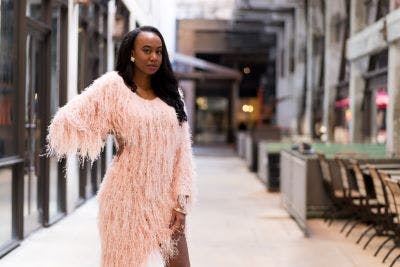 Recent Advance Articles

Many Voices, One Mission: Nehal N. Mehta

Public Health and Psoriatic Disease

Biosimilars