June 01, 2021
The Speaker family of New Hope, Pennsylvania was preparing to take a trip to Harrisburg to visit with family. Dad, Andy, was at work while Mom, Margaret, was preparing the kids, Jess, Mary, and Tom, for the journey. It was the 1990s. At some moment in the pre-trip preparation, it dawned on Margaret that she had not seen Tom in a while. Neither had his older sisters. "Margaret calls me," Andy remembers, "and says 'I can't find Tommy anywhere.'"
Just shy of all-out panic, Margaret called the police. It was the embodiment of the worst nightmare of every parent of young children. The family combed the streets calling out for Tom. Andy rushed home in a three-piece suit and headed straight for the playground to search the nearby sewage tunnels. The police were driving around the neighborhood yelling, "Tommy Speaker, if you can hear us, please go home!"
Margaret had her own ideas of bribing the young boy home. "Tommy we're making ice cream cones!" she shouted.
The atmosphere was charged and frantic. Police began to exhaust their search options and turned their attention back on the house and the family. Hours had passed. "The police probably suspected us at this point," Andy says. Andy headed down into the basement in the full throes of parental panic. "Tommy! Tommy! Tommy!" Nothing. Not a sound. Andy ran back upstairs and headed outside toward the garage where the family was gathered, everyone in tears. "I turned around," says Andy, "and there's Tommy standing in the doorway of the garage, looking at his family and the police and a neighborhood in full panic like, "what's all the commotion?" Andy remembers.
"Where have you been?" Dad asks Tom. He had been missing for about four hours.
"I was sleeping on the shelf in the basement," Tommy answers, referring to the space under the stairs that Andy had recently built.
"Didn't you hear us?" Dad asks.
"Yeah, you were so noisy I pulled the stuffed animals down on top of me so I wouldn't have to hear you," little Tommy answers.
His sister Mary remembers well that Tom was doing that to avoid cleaning the basement, leaving her to take care of the unenviable task.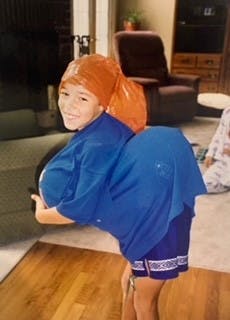 Becoming Tommy
That young boy who incited a neighborhood-wide panic because he didn't want to clean the basement grew up to become a sensitive, smart, and talented child and teenager. "Young Tommy was precocious and fun – a leader," remembers Andy. "He had always organized the games with all the kids in the neighborhood. Funny. Very smart. Then there was the teenage Tommy who got a job when he was 14 and was a really hard worker, several days a week. Still fun. Still precocious and smart."
Jess remembers teenage Tom as outgoing and enviable. "When he was in high school, he was really popular. He had a ton of friends. He played sports. He skateboarded," she says. "I was always jealous of him. I was the oldest. He was the youngest. And I was like a huge dweeb in high school and then my baby brother is like, so cool. I was like 'Oh yeah, Tommy Speaker, that's my brother!'"
Tom was an avid Philadelphia sports fan, particularly the Flyers, the local pro hockey team. And of course the 2018 Super Bowl champion Eagles. He also had a bit of the artist in him. He took up guitar and surprised his family with his development on the instrument. "He was just very loving," Mary adds. "He loved his family, and he loved his friends, and I think that is one of the best characteristics about him."
"He was sensitive," Jess adds. "He talked a big game and was very outgoing and in-your-face, but he was really sensitive down deep. We made fun of him for being a crybaby when he was little, but he always had that really sensitive side and really, really empathized with people."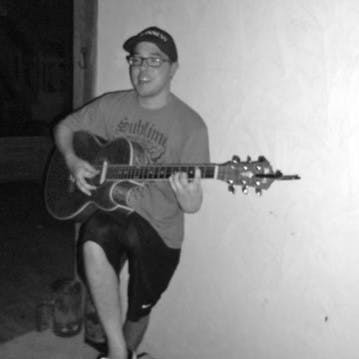 A Twist of Fate
In his teenage years, Tom was with the family on a reunion trip when a rash showed up on his skin. They were at the beach alongside the ocean. Tom got really tired, as Margaret remembers it. He took a nap, and when he got up, Margaret noticed the redness of his face. "Did you get sunburned?" she asked him. "Did you use sunscreen?" It spurred someone in the family to talk to Margaret about autoimmune diseases and issues. At first, they worried it was lupus. Tom was about 16 years old when he and Margaret visited a Philadelphia area specialist. "They found nothing wrong," Margaret says. "It definitely wasn't lupus." The provider then recommended that Tom be taken to a dermatologist.
Tom was not diagnosed immediately, and his disease progressed. He had eczema, but that wasn't what they were seeing on his skin. A number of other possibilities were ruled out before they honed-in on psoriasis. "I know he didn't understand what he was up against," Margaret says of the psoriasis diagnosis. "I don't think he really understood the impact of what they were telling him."
For a little while longer, Margaret was able to attend Tom's dermatology appointments, but as soon as he turned 18, she lost the ability to monitor his visits and records because of Health Insurance Portability and Accountability Act (commonly called HIPAA) rules, which aim to keep patient health information private.
As with so many others who experience psoriasis, Tom tried a number of treatments. He found systemic options that worked well for a year. There seemed to be a correlation between his happiness and his skin clearance. "You could just see his spirit lift," Margaret says. But the treatments would either stop working or Tom would stop treatment when his skin cleared.
Tom was embarrassed by the appearance of his skin. When his psoriasis was visibly bad, he would withdraw. He wouldn't invite friends over. He would do all he could to muster the emotional strength to be there for his nieces, Jess's young daughters, but as time wore on and his disease progressed, he spent more and more time in the finished basement of his parent's home.
"He slowly withdrew," Andy says. "We encouraged him to seek help, which he did. He was diagnosed as depressed – possibly bipolar. They wanted to put him on medication, but he refused to take medication. He thought it was bad for you. He just slowly, slowly departed from us."
Margaret explains that Tom could not get past the stigma of being on medication for depression.
As a young adult, Tom found a good job. He had his whole life ahead of him. The world must have seemed full of opportunities. But a coworker made a comment about the appearance of Tom's skin that upset him so much he quit the job, never to fully return to the workforce again.
For those with mental health challenges, the small things can seem insurmountable. Tom developed an ability to say what his family wanted to hear, only to retreat to the basement. Not long ago, Jess worked with Tom to develop his resume. His large gap of unemployment was a major concern for him, so she helped him explain it in a way a potential employer might understand. Resume and cover letter work aside, as soon as it was time to put himself out there, he retreated. "He would tell you just enough that you would be like, 'maybe this time it really got through to him,'" Jess says. After Tom passed away, Andy found a USB drive in Tom's car. "The only thing on it was the resume he worked on with me that he never did anything with," Jess says.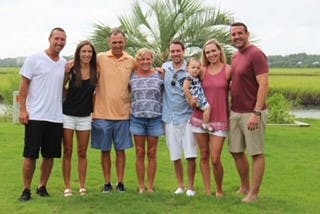 Ups and Downs
A little over two years ago, Tom dedicated himself to a treatment for his psoriatic disease that was working. Mary was getting married, and Margaret says that clear skin for his sister's wedding was important to Tom. "He went heavily on a medication that controlled the psoriasis so he could get through his sister's wedding," Margaret says. "His skin was nice and clear. And he was the life of the party."
Mary wanted Tom to play a Death Cab for Cutie song on the guitar at the wedding. Even with clear skin, Tom was too shy to take on the performance. "She just wanted an acoustic guitar to walk down the aisle to," Margaret says. "He just couldn't do it. He was that sensitive."
From the vantage point of his parents and sisters it was clear that the physical appearance of psoriasis was a cause of the depression Tom experienced. "The depression was triggered by the psoriasis," Jess says. "He wasn't depressed before."
Margaret agrees with her daughter. "It was, I think, because the [psoriasis] medications worked and then stopped working," she says. "It was the uncertainty of 'is this next medication going to work or not?'"
"From my perspective, it was just the constant up and down," says Mary. "He would be bubbly and super involved with us at one point and then the next time he would only come down to have dinner and then as soon as he was done, he would leave the table and go back to his room or the basement."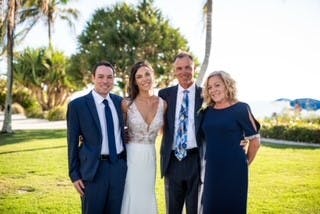 The Tragic Conclusion
Most of us spent the last year and a half in isolation as a result of the pandemic, but Tom took isolation to a whole new level because of his depression and his psoriasis. Occasionally, when Tom emerged from the basement for dinner, Andy would offer a beer with the meal, which Tom would turn down. They didn't know what he was doing in the basement. As it turns out, he was secretly drinking.
Quiet and alone, perhaps the alcohol gave his mind a brief respite from the symptoms of his disease that wore on him so heavily.
Tom wanted to be "normal." He wanted to be successful and happy. Perhaps a father and a husband. Tom and Margaret had a tearful conversation just a little while back. "You don't think I want to fall in love?" she remembers Tom asking. "You don't think I want to get married? You don't think I want to have children? You don't think I want a family? I want that more than anything."
Tragically, Tom will not get to have his wedding or his children. At the end of January, shortly before what would have been his 31st birthday, the drinking and depression took Tom's life.
The family was shocked. Some treatments for psoriasis are hard on the liver, and perhaps there were complications due to the drinking. "What are you going to say?" Jess asks. "If you are struggling, it hurts. You are probably in such a deep, dark place that whatever we are going to say here isn't going to make a big difference. Let's be real, it sucks to be on this side of it. If something bad happens to you, you leave a lot of crushed people in your wake."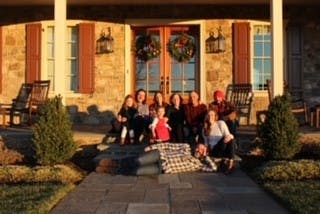 One Way Forward
People with psoriatic disease are at a higher risk for depression and anxiety as well as other mental health issues. [1] While we know that stigma and isolation are contributing factors, less is known about the physical impacts of psoriatic disease or the associated systemic inflammation and its impact on mental health. Research is currently underway, and the National Psoriasis Foundation (NPF) has created a new grant mechanism known as the More Than Skin Deep grant, to fund more research into mental health comorbidities.
The Speaker family has done so much more than anyone could have asked in the hopes that no other families will have to experience the tragedy that has washed over their lives. Shortly after his death, they created the Thomas Andrew Speaker Memorial Fund to support the efforts of NPF in funding research that explores the connections between mental health and psoriatic disease.
"Our family is now broken, and each of our hearts will always be missing a piece. We have decided to write this story in the hopes that it will make a difference," Jess wrote on the memorial fund page. "Funds contributed to Tommy's memorial fund will be funneled specifically toward researching the mental health effects of psoriatic disease. Hopefully, this research will be able to help to provide the support and resources to help other families remain whole, until there is a cure."
Do You Need Help?
Help is always available to you, and you are not alone. The National Suicide Prevention Lifeline provides free and confidential support to people in distress. Simply call 1-800-273-8255 any time day or night.
If you have questions about managing your psoriatic disease and the related comorbidities including mental illness, the NPF Patient Navigation Center (1-800-723-9166, education@psoriasis.org) is ready to help you find the right provider, navigate insurance hurdles or connect you with resources to help you understand your disease, find the care you need and your treatment options to live your best life.