April 04, 2022
Most people remember their 21st birthday as an exciting time, but Tammy Stafford simply remembers her unfortunate birthday present. "That's when the first patch of psoriasis showed up on me," Tammy said. "It was high on my forehead, right at my hairline." Growing up seeing her mom struggle with psoriasis, Tammy was familiar with the disease and knew that it was a lifelong "gift."
Tammy lives with her husband in Little Rock, Arkansas. They are now empty nesters, with their youngest off to college. None of her three children have psoriasis, and she hopes that it stays that way. The only other person she knows in Little Rock with psoriasis is a fellow mom, Nashwa Krisht, but when they first discovered their connection, they didn't discuss it much. "It was still kind of kind of a hush hush thing," she said. "She is [now] one of my very best friends. We definitely lean on each other." Tammy said Nashwa is one of her biggest supporters.
Over the years, Tammy has had practically every part of her body covered in psoriasis at some point, other than the palms of her hands and the soles of her feet. Despite this, she has always been conservative with her treatment choices. She was worried about putting something foreign in her body. Tammy now has nearly 50% of her body covered in lesions. She has had decades of mediocre results from using various topicals and phototherapy, but knowing that psoriatic disease is systemic – involving inflammation throughout the body and increasing the risk for a number of other diseases – Tammy decided to fight a systemic disease with a systemic treatment. It was time try out a biologic.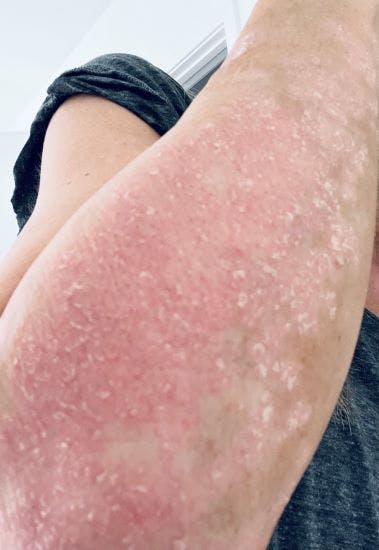 After talking with her dermatologist and getting the prescription, she was excited by the possibility of being clear of skin symptoms for the first time in years. She found out soon after that her insurance had denied coverage of the prescribed biologic. "In here they stated that it is 'not medically necessary,'" Tammy told me. She said that the insurance document suggested less expensive treatments as alternatives.
This practice is known as step therapy, or fail-first, and can often cause people to wait months or even years to receive the treatment that was originally prescribed to them. "I had a lot of emotion reading that," Tammy said. "I was so mad because I thought whoever sat down and did all this obviously doesn't have psoriasis."
But let's back up.
Recent Advance Articles

Many Voices, One Mission: Nehal N. Mehta

Public Health and Psoriatic Disease

Biosimilars