January 11, 2022
It is that time of year. So much of the country now finds itself brushing a morning dusting of snow from the windshield or piling summer clothes into boxes in the back of the closet to make room for sweaters and half-zips.
We wanted to do our part to keep you feeling warm and cozy all winter long, so we pulled out two recipes from our Healthy Eating Guide for Psoriatic Disease. You can get your own free copy of this beautifully photographed guide and recipe booklet where you will find information on foods with anti-inflammatory properties as well as a number of recipes gathered from the community and reviewed by a registered dietitian.
Remember, no food can cure disease, including psoriasis and psoriatic arthritis. Before you make any changes to your diet, consult with your health care provider.
CHICKEN STEW
SERVINGS: 4
240 CALORIES | 35 GRAMS PROTEIN
Servings and nutritional values are approximate. Fits into a calorie-controlled meal plan for weight loss.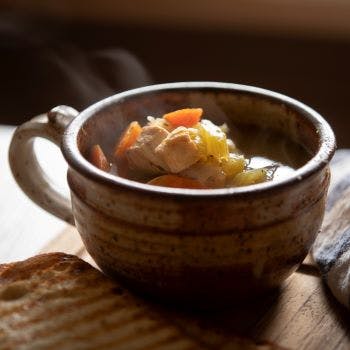 INGREDIENTS
4 boneless, skinless chicken breasts
½ onion (chopped)
1 teaspoon pepper
7 carrots, peeled and cut on the diagonal
8 celery stalks, cleaned and cut into 1" diagonal pieces 3 cups chicken broth (homemade is best)
1 cup dry white wine (optional)
2 tablespoons thyme
INSTRUCTIONS
In a large skillet, brown the 4 chicken breasts using a cooking spray and sprinkle with pepper.
Brown the onion with the chicken.
Add chicken and onion to a slow cooker.
Add broth, white wine, and vegetables to the slow cooker.
Cook on high for 4-5 hours.
Season to taste and serve warm.
INGREDIENT BENEFITS
Skinless chicken contains much less fat than chicken with the skin still on. Carrots are loaded with beta carotene, which is an essential precursor to vitamin A.
Recent Advance Articles

Fear of Needles

Putting Kopa to the Test

Coming Together for a Cure