February 04, 2021
Jenn Pellegrin of Jurupa Valley, California, has dealt with psoriasis since 1999 and psoriatic arthritis (PsA) since 2008. As with so many who experience psoriatic disease, it's also a family affair. "Three out of the four direct blood relatives in my family have it," she says.
Pellegrin discovered the National Psoriasis Foundation (NPF) when she was doing a research paper for a school radiology program. She was allowed to pick the topic for the paper, so why not choose something she understood firsthand?
"I thought, what better topic to not only educate myself, but let's educate people. One of the biggest pet peeves I find myself living with is the fact that people aren't aware of what [psoriasis] is," Pellegrin says. "People are misled. There is a misconception that we are contagious."
After Pellegrin shared the paper with her class, a woman came up to her and thanked her for the information and insight. "I thought, well, geez, how much can I get involved?" she says. "I mean, why can't we do this more?" And get involved she did.
Beginning around 2009, Pellegrin signed up for her first Team NPF Walk. She formed a team that traveled two hours to the event in San Diego, and was quickly hooked on the community and the feeling of involvement. What began as a few steps at a walk event turned into strides that continue to this day.
"When I attended my first volunteer conference, I told myself I was going to get more involved," she says. "I became a community ambassador." While she was on the training call to learn to be an ambassador, she was asked by another volunteer to take part in the One to One mentor program NPF offers. "She thought I had the personality for it. And I said, 'I'll give it a try,'" remembers Pellegrin.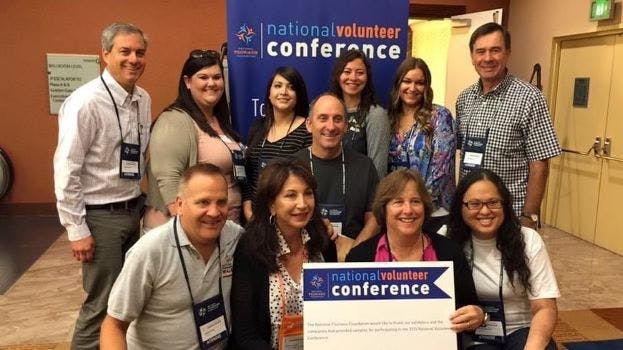 Learning to Speak Up and Speak Out
Most people would have stopped there. After all, Pellegrin was employed full time and is going to school to become a nurse, on schedule to earn her RN BSN in 2021. She also volunteers for two other nonprofits in addition to NPF.
As you're starting to see, however, Pellegrin isn't most people. From the start, she was looking to deepen her commitment to NPF, because volunteering gave her back something she couldn't find anywhere else. "It gives my disease purpose," she says of her volunteer work.
What better way to turn a diagnosis into a purpose than to advocate for yourself and others like you? It was a conversation at the conference hotel bar with longtime advocate PJ Leary that began to turn Pellegrin from a curious and passionate new volunteer into a full-fledged NPF volunteer advocate. Before being introduced, Pellegrin says she was warned about Leary's passion for advocacy.
"I met her [Leary] at the very first conference I went to, and we sat at the top floor bar in San Francisco. And this woman went on for two, three hours," says Pellegrin, laughing. "And everybody said, 'Don't let her get on a roll.' Oh my gosh, we were busting up so much that it was hurting to laugh – the laughing and the memories shared. And from meeting PJ and then meeting [Tom] 'EZ' Goen, I thought I was in a room with celebrities!"
Since her inspiring talks with influential advocates Leary, Goen and previous NPF Outstanding Volunteer Leader Alisha Bridges, Pellegrin has taken up the challenge of advocating for those with chronic diseases at both the state and federal levels. She finds the work so inspiring that years ago she decided to transition to a career in nursing, where she believes she can best continue speaking up and advocating for those who need it.
"Nurses are advocates," she says. "Now I'm taking my passion to advocate and making it a career. It's now a lifelong thing that I get to do. And you know, I don't know how long my body will last as a bedside nurse, but I can fall back on that legislative side that I already have experienced with the NPF."
What Does She Get Out of All This Effort?
While some would wonder how a person facing chronic disease and plenty of school and work could summon the energy to give back to the community that supports her, Pellegrin seems to go the opposite direction. It's as though she needs the energy and friendship of the community to power through the hardest times.
What does this community mean to Pellegrin? "I think it's that shoulder to cry on. It's that 2 a.m. text saying, 'Hey, I need somebody to talk to.' It's that family outside your family," she says. "Because even though my brother and father have [psoriasis], I don't know if they truly 100 percent get it, [having psoriasis as] a female. It's nice to have another female to talk to you. It's that sharing too. 'What worked for you?' 'Hey, try this, if you can't do that.' It's having a family that understands you.
"It does not matter how you look, how much you are covered," Pellegrin continues. "Whether you are flaking, you are itching, you are complaining or you are bitchy because you're in pain. They get you."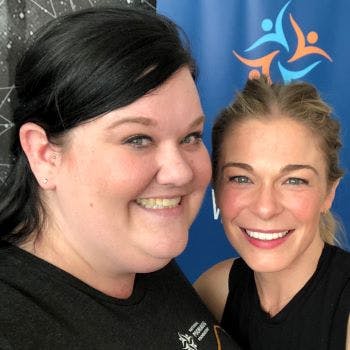 Congratulations, Jenn Pellegrin
NPF and its community of millions impacted by psoriatic disease owe a debt of gratitude to all those who choose to volunteer their service and time to make our lives better. As NPF CEO and president Randy Beranek says, "Volunteers are the lifeblood of the National Psoriasis Foundation." Pellegrin proves that to be true.
We thank you, Jenn Pellegrin, for your dedication and commitment. We are honored to call you our 2020 NPF Outstanding Volunteer Leader.