December 06, 2018
Hillel Katzeff loved to run. He loved to beat the clock. It didn't matter if the person holding the stopwatch was his big sister as he raced from his childhood home to the corner store or a referee at a track and field event. He loved the rush of air and what he calls the feeling of "controlled power."
After graduating from college, he moved to New York City. One day, Katzeff was jogging through Central Park when he suddenly felt as if he had bone spurs in his heels. Later, the pain spread to his toes and then up to his fingers. A rheumatologist diagnosed him with psoriatic arthritis (PsA).
Another doctor diagnosed him with psoriasis, but this was so long ago – the early '80s – that he can't remember which diagnosis came first. His PsA is the greater trial, but he says his psoriasis "can be bad, if I have a flare and my medication isn't working."
The pain in his joints worsened. Katzeff stopped running or even exercising.
"Eventually, I resigned myself to the fact that I had to live with this deforming and crippling disease – and that I might never be able to run again," he wrote some years later in a short memoir. "It did not help when well-intentioned friends occasionally reminded me of my running days and how fast they remembered me to be."
The man who once blazed across the finish line in the 100 meters in just 10.9 seconds had to accustom himself to walking with a cane.
Home Away From Home
In the '90s, Katzeff moved to San Diego for the moderate, sunny climate. He grew up in Cape Town, South Africa, and San Diego had a large South African community, so it felt in some ways like going home. His symptoms improved in San Diego, though they never went away.
He took up swimming in a heated pool and surfing. "I found myself getting stronger while my body slowly regained some long-lost definition," he wrote. "But no matter how fit I got, I could never break through the nagging pain."
Katzeff's life changed again in 2004 when he began taking one of the earliest biologics together with a systemic. He had tried many other drugs in the past, for both psoriasis and PsA, but none had had any effect.
This time was different. Within a few weeks, his psoriasis subsided and his joint pain substantially decreased.
Naturally, he wondered if he could run again.
Katzeff found out about the U.S. Track & Field's Master's program for athletes older than 30. He had just turned 45. He decided he was going to run in a 100-meter race. He had four months to train.
After 22 years of sitting on the sidelines, he was rusty. But thanks to the biologic ("a miracle drug," Katzeff says) he was back in the game. He ditched the cane. He assembled a team of trainers, physical therapists, and friends to support him. After training six days a week, he maintained perfect form as the race began. He was running among the leaders when, in the final 10 meters, he pulled a hamstring in two places. He still finished second with a time of 12.15 seconds.
Katzeff soon stopped running, not because of his PsA but because his body was older and he kept pulling his hamstrings and suffering other injuries. He needed a new challenge.
The Freedom to Swim
Katzeff's first biologic lost effectiveness over time. His second has been good for his psoriasis but has not yet kicked in with his PsA. Some days it's hard just to get on his feet.
He kept swimming and even rode 10 miles with Team NPF Cycle in San Diego in 2016. "I'm not conscious of the pain while I'm swimming," he says.
By 2017, Katzeff had moved from heated pools to the open ocean. He joined two local open-ocean swim clubs. And as he looked ahead to his 60th birthday in 2019, he set a new goal: to swim from Robben Island to Cape Town, in 55-degree water, without a wet suit.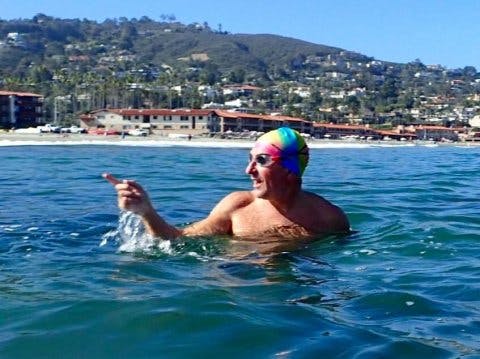 Robben Island, like Alcatraz in San Francisco Bay, was the home of an infamous prison. Nelson Mandela spent 18 years incarcerated on Robben Island. He was freed in 1990 and became president of South Africa in 1994. Every year, people tackle this swim to honor Mandela and celebrate South Africa's Freedom Day.
Open-ocean swimmers consider the Robben Island Freedom Swim an extreme swim, because of the temperature of the water, the unpredictability of the weather, and, yes, sharks. Katzeff will make the 6-mile swim on his birthday instead, but he still faces all the same challenges. On his blog, Freedom Swim, he calls it a "big, hairy, audacious goal."
"Am I confident? I think so," he says. "My mental state is 'yes, I can do it.' Physically, well, I have to rise to the challenge. I know what I have to do. Fortunately, everyone has been very supportive. My wife said the other day, 'I'm really proud of you,' and so I keep going."
Recent Advance Articles

Many Voices, One Mission: Nehal N. Mehta

Public Health and Psoriatic Disease

Biosimilars