May 11, 2021
On this mid-February day, Chris Williams sits back on his couch and adjusts his earbuds to better hear me on the video call. A large clock decorates the wall behind him. It is late in the afternoon at his home in Virginia Beach, Virginia.
After the usual introductions and polite banter, we get right into his history with psoriatic arthritis (PsA) before we get to the fun stuff: cycling with Team NPF. Williams received his PsA diagnosis in the late 1990s – but not until after PsA had lessened the effectiveness of joints in one toe on each of his feet.
"It was very troubling at the beginning because [PsA] was misdiagnosed by basically a series of doctors, all of whom failed to ask the very simple question: 'Do you have psoriasis?'" Williams says.
Had they asked, they might have diagnosed this disease that develops in about 1 in 3 people with psoriasis. With hindsight, Williams does remember one health care provider looking seriously at the condition of his nails, which he now knows can be an indicator of PsA. Unfortunately, the provider did not make the connection or diagnosis at that earlier time.
Even after he had received a PsA diagnosis from a rheumatologist, Williams experienced progression of the disease. "The next joint that was attacked was on my hand," he remembers. His ring finger was so affected that he couldn't grasp a golf club or, much more importantly to Williams, play his saxophone. "I play saxophone as a hobby – and some professionally," he says. "PsA had the potential of ruining a few of my passions."
Luckily, Williams and his rheumatologist found a treatment that worked for him. The biologic he used worked so effectively that Williams didn't experience any further flares until COVID-19 came. Williams thought it was wise to go off his biologic in the hopes that it would help his immune system, should he become infected with SARS-CoV-2. "But I woke up one morning with a familiar feeling in one of my toes and immediately went back on the biologic," he says with a laugh.
According to the NPF COVID-19 task force guidance statements, "It is recommended that patients who are not infected with SARS-CoV-2 continue their biologic or oral therapies for psoriasis and/or psoriatic arthritis in most cases. Shared decision-making between clinician and patient is recommended to guide discussions about use of systemic therapies during the pandemic."
Hitting the Road
It was not the potential benefits of exercise and movement in dealing with PsA that led Williams to his bike. It was something much more universal: He was in his late 30s or early 40s and realized his sedentary lifestyle was not a good idea. His toes do not stop him from walking, but running would be too high impact, he assumed. He turned instead to a hobby he had enjoyed in college and climbed back into the saddle as a cyclist.
"Cycling is good because [almost] anybody can do it, and so I started riding some," Williams says. "I got involved in group riding with a group out of a local bike shop." At that time, he was already involved with the National Psoriasis Foundation (NPF), which he had turned to years earlier for information to help manage and understand psoriatic disease. But Team NPF had not yet begun cycling events in his area, so Williams rode for the American Diabetes Association.
As happens when healthy habits match up with joy from the activity, Williams progressed as a rider. He worked his way up to a 100-mile ride, known as a century ride. Most people get a little tired at the notion of driving a car that far, but Williams says he relishes the community and social aspects of group rides. He feels like his body thrives with the regular cardio – especially all the lengthy rides in the Virginia countryside as he prepares for long events.
"I wear a heart rate monitor, and I work hard when I'm riding," he says. "It's not just a ride around the park."
While Williams didn't begin with the idea of fending off comorbidities or maintaining joint health, he explains that he has come to appreciate that his activity of choice is a good fit for managing his disease and its associated risks. "You know, the more I've come to understand about inflammatory diseases, the more important I think it is to get your regular exercise," he says. "Cycling is also not so rough on your body."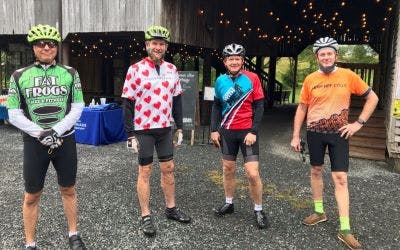 Experts Agree with Williams
Williams' preference for cycling has proven to be a smart one. Soumya Reddy, M.D., co-director of the Psoriatic Arthritis Center and assistant professor of medicine at New York University Grossman School of Medicine, espouses the value of exercise and activity – especially lower impact activities – in managing PsA. "Exercise or movement is recommended for people with PsA," Dr. Reddy says. "Exercise has many benefits for patients with [psoriatic] arthritis, including muscle strengthening. Keeping the muscles that support joints strong helps to alleviate extra pressure or 'work' for the joints."
Dr. Reddy points out that exercise is helpful in maintaining a healthy body weight too. "There are also many cardiovascular benefits to regular exercise," she says. That's important because cardiovascular disease is "a known comorbidity that can affect many people with PsA. There is also an abundance of evidence of mental health and stress reduction benefits of exercise," she adds.
You do not have to be an athlete of Williams' caliber to see exercise benefits for your PsA symptoms. "Gentle and low impact exercises are an excellent option for people with PsA who have limited range of motion in some joints that may limit their ability to participate in other types of exercise," says Dr. Reddy. "These low impact exercises can still have many of the benefits of exercise in general, but may be less painful and more easily modifiable for those with limitation of joint mobility."
Dr. Reddy has a few suggestions for gentler exercise, but also a note of encouragement for those who want a challenge. "Yoga, Pilates, walking and biking are all types of exercises that may be effective for people with PsA, but I have patients who are doing well and able to compete in triathlons safely," she says. "Any exercise that people enjoy and can do without significant pain is recommended. As always, it's important to discuss with your rheumatologist if they have any specific concerns/limitations."
Where to Next?
In mid-February, Williams would normally be tuning up for a century ride or figuring out his next ambitious cycling plan, but the pandemic has made him cautious. He leans back into his couch and smiles as he explains that all the sweating, panting and spitting in group rides makes cycling in a peloton a risky endeavor during the pandemic. But with one COVID-19 vaccine dose in and another scheduled, Williams is looking forward to returning to the roads for the exercise and the social aspect of group rides. He has been retired from the railroad industry for three years and misses his usual community connection.
It hasn't been all isolation for Williams, though. "NPF is great with some of these Zoom events," he says, referring to Team NPF virtual events. "You get to talk to other people that have psoriatic disease and learn from them and be with your brethren. So that's a good thing."
The clock behind him lets me know it's time to wrap things up. Williams tosses in one last smile and a few kind words about NPF before simply saying, "All right, let's go watch the rover land on Mars. It's coming down in minutes."
You can find your next adventure, on foot or in the saddle, with Team NPF. Remember, we have Team NPF DIY if you want to get creative with your fundraising. Like, say, landing a rover on Mars. Of course, we have less ambitious options too.