December 01, 2020
You clearly aren't living on another planet, so you have heard the ongoing discussion and messaging surrounding the importance of wearing a mask. It is absolutely essential to properly wear a mask over your mouth and nose when in public or around people with whom you do not live. It's important because it helps greatly in protecting those around you and stopping the spread of COVID-19, which has taken the lives of over 265,000 people in the U.S. to date.
As the U.S. approaches winter and the virus surges in many areas, the added pressure that the seasonal flu will put on the health care system makes it even more important that we each do our part to slow the spread of SARS-CoV-2, the virus that causes COVID-19, and of course, we all need to get our flu shots as soon as possible.
All that said, people who experience psoriasis symptoms on the face could be understandably concerned about the impact of the mask itself on the skin, particularly the nose, ears and areas where the mask touches the face. It is still absolutely essential to wear a mask in the appropriate circumstances, so what can you do to mitigate the negative effects on the sensitive skin of your face?
"COVID-19 has changed our lives in ways large and small. One of the few certainties is that wearing masks, practicing social distancing and frequent hand washing can save lives," says Dr. Jose Scher, M.D., associate professor in the department of medicine at New York University Grossman School of Medicine and a member of NPF's scientific advisory committee. "As we follow these simple steps, many people living with psoriasis have encountered some challenges with skin irritation and at times flares. We recommend a few simple steps, including finding soft masks, moisturizing the face daily and taking regular and safe breaks throughout the day. Certainly, people should consult their dermatologist if a flare occurs so the treatment plan can be adjusted."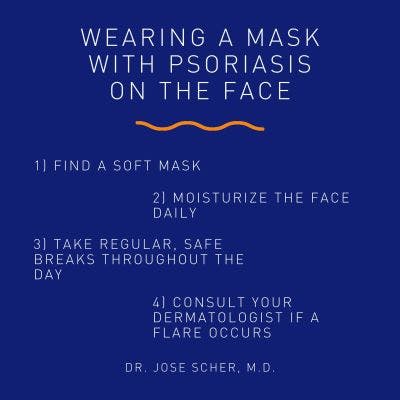 Keeping your mask clean is important, as is finding or making a mask made of materials that won't irritate your skin. Since you may have to get creative to find the right solution, we have included tips for making, cleaning and storing your mask.
Below, we'll get into how you can make your own mask, with the sew and no-sew options the Centers for Disease Control (CDC) has created, but before we delve further into masks, it's time for the important reminder that handwashing plays a vital role in keeping you healthy. When you properly wash your hands, you play your part in preventing the spread of the flu and COVID-19.
Follow These Five Steps Every Time
Wet your hands with clean, running water (warm or cold), turn off the tap, and apply soap.
Lather your hands by rubbing them together with the soap. Lather the backs of your hands, between your fingers, and under your nails.
Scrub your hands for at least 20 seconds. Need a timer? Hum the "Happy Birthday" song from beginning to end twice.
Rinse your hands well under clean, running water.
Dry your hands using a clean towel or air dry them. [1]
All this handwashing and sanitizing can leave your skin feeling dry, cracked and painful. We have assembled a few moisturizers that may help keep your hands feelings soft and healthy.
How to Make a Mask
The CDC offers two effective and fairly simple ways to make a mask. The no-sew option is easier, but if you experience psoriasis on the face or around the ears, this option is not ideal, as it involves rubber bands or hair ties that could irritate the skin. Don't give up though, you might try shoelaces, bits of fabric, or whatever you have around the house that's soft and gentle enough to rest on the skin behind the ears.
How to Clean a Mask
Once again, the CDC has guidance on how to properly store and wash your masks. While a fabric mask can be washed with your usual laundry [1], remember that your sensitive skin can react to detergents and irritants in laundry products. NPF has a Seal of Recognition that highlights products meant to be non-irritating. Take a look at fabric softeners or detergents that might keep your skin from being irritated.
When Do You Really Need to Wear A Mask?
It's always best to error on the side of caution. COVID-19 has proven to be deadly, and wearing masks keeps you and those around you safer. Masks are a must when you cannot be physically distanced, when you are out in public, and when you are with people with whom you do not live.
"We encourage members of our community to follow health guidelines, including wearing a mask to protect yourself and those around you," says Dr. Stacie Bell, Ph.D., the chief scientific and medical officer for NPF. "This is not a political issue, but one of public safety. For more information, please visit our COVID-19 Resource Center. We know that wearing a mask is not always convenient or pleasant but have some fun with it. Find one that says something about you or makes you smile. We have some great NPF masks as well!"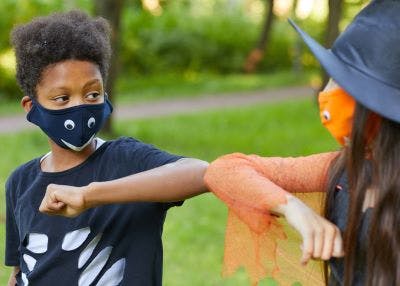 [1] Centers for Disease Control website, https://www.cdc.gov/coronavirus/2019-ncov/index.html?CDC_AA_refVal=https%3A%2F%2Fwww.cdc.gov%2Fcoronavirus%2Findex.html