June 09, 2022
Pets will always bring a smile to your face, but there are other benefits that can come from owning pets. For Catie Dvorak, who grew up with all manner of pets, starting college without any was difficult. On top of classes, making friends, and all the anxieties of leaving home, she added on a new psoriasis diagnosis – a disease she knew about. Her younger brother was diagnosed several years back. Dvorak says that she went from being a gregarious person to having anxiety and depression, common comorbidities of psoriatic disease, as well as having agoraphobia, making it difficult to leave her dorm room, even to go to class. "The bottom line is, I felt like my body was betraying me to a degree, and I was always anxious that I wouldn't present the way I wanted to present to people," says Dvorak.
Enter Princess Penelope Peanut Piggy, a small guinea pig who made a big difference. "She got me through some very difficult times," Dvorak says of Penelope, adding that she would show off the guinea pig to others in the dorm, which reduced the anxiety of meeting new people and making friends.
Now in grad school, Dvorak's "herd" has grown and includes Emily Pigginson the pig, Reese the skunk, Monty the ball python, Bellatrix the cat, and Linus the dog. "Just the release of dopamine and serotonin that I get when I'm spending time with them, I know it completely helps me to lower my stress levels," says Dvorak. "It makes me really happy to make all my pets really happy." With lingering agoraphobia, aggravated by the COVID-19 pandemic lockdowns, going to the dog park with her dog and pig motivates her to get out of the house.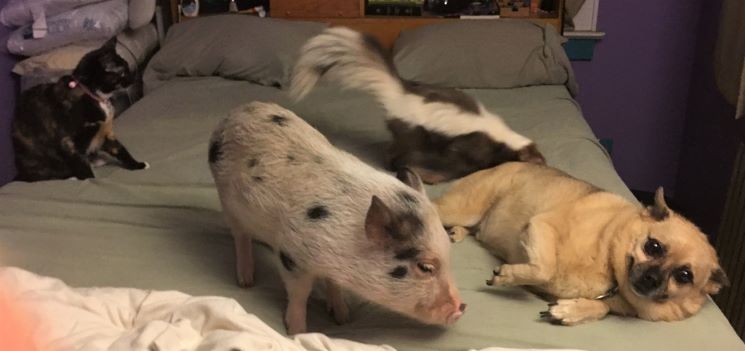 Stress can undoubtedly be a trigger for psoriasis flares. Finding ways to manage day-to-day stress is an important part of managing the disease. "[My pets] help me to destress and just feel good, and that that sets me up for fewer flare ups. That sets me up for a more controllable experience of the disease," says Dvorak.