January 27, 2022
Getting onto the Twill Care for Psoriasis app has come at a perfect point in my life. In late December 2020, at the direction of my health care provider, I stopped taking my biologic treatment due to severe physical and emotional side effects. For the first time in a long time, I am off my biologic, and I don't know what will happen.
Enter in the Twill Care app. This online community is an official partner of the National Psoriasis Foundation, and it serves people with psoriasis and psoriatic arthritis (PsA) with support, tips for treatment and managing the disease, and tools that help people like me track stress levels and psoriasis flares.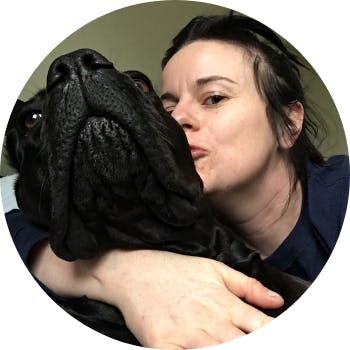 Jocelyn and her dog Leo snuggling up.
My immediate impression? Twill has a boatload of features! There is an activity feed where you can post or read posts from others. There is even a toggle button for experts (health care providers) to weigh in on posts! This leads to a ton of helpful information being shared, and you get to connect with people and providers you otherwise would never know.  
When you open the app, Twill prompts you to track your skin symptoms and stress. The tool tracks what percentage of your body is covered, where on your body you are affected, and how painful, itchy, and scaly your skin is each day.
I love being able to write a note in my symptom tracker and add photos. I hope Twill adds the same feature in the stress tracker tool so I can note what was going on that day to correspond with my stress level and help me notice trends.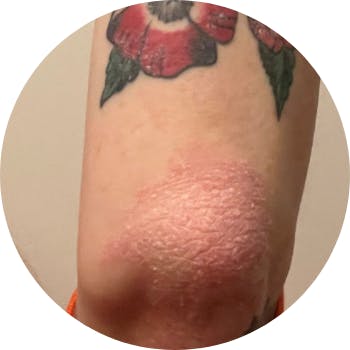 Some visible psoriasis symptoms on the skin of Jocelyn's elbow.
For me, the "like" feature is counter-intuitive because most people are posting distressing symptoms looking for help, so to "like '' or hit the "thumbs up" on a post makes me feel like I'm liking their pain. Of course, this problem exists on so many social platforms that I'm sure people understand that a "like" is a sign of support. I also hear that coming soon, Twill is going to be expanding the post reactions to include things like a heart, a sad face, and other more appropriate reactions. I look forward to the update.
I cannot wait to dig into the Kopa app further. I think it is going to play a helpful role in managing my psoriatic disease now that I'm transitioning my treatment plan with the help of my health care provider. I'll take anything I can get that might provide some relief or useful information, and Twill is an app I am very excited to add to my toolkit.
You can get started with Twill for free right away, and I highly recommend it. Once you are in the app, look me up, and maybe we can connect or share tips.