January 14, 2021
If there is a skill we have gained or honed as a result of this once unfathomable COVID-19 pandemic, perhaps it's our ability to simulate or imagine what we would have been doing in our "normal" lives. So much of the recent past has carried this feeling that we are waiting for the everyday to return. Until then, we find ways to substitute with the help of our bevy of technological tools, which may come up short of being the real thing.
So perhaps there has never been a better time to take a virtual or imaginative journey. This voyage won't be glamorous, but it is important. We are setting off to a boardroom. You can see the table. Imagine it's any shade of brown or black you like. The office itself is clean and bright, and otherwise its appearance is completely up to your imagination. What matters here is the cast of characters, not the setting of the scene. You might smell coffee. Someone offers you water.
You are in a meeting representing the interests of the people who make up the community of the National Psoriasis Foundation (NPF). The topic may be the importance of preexisting conditions protections. Or the get-together could be a planning session, figuring out how to make a strategic "ask" of a lawmaker or committee.
What surprises you most, as you rise to greet and shake hands (or bump elbows) with each entering member of this conference room meeting, is the range of roles displayed on their nametags. There are lawmakers and legislative assistants, sure. There are a few people from NPF making introductions. But there is also someone from another association or foundation, and you can't quite figure out what role this seemingly unrelated organization could be playing. Then comes someone else, immaculately dressed with a polished smile and a practiced handshake. This person works for a large trade association – maybe even a company you thought you were here to oppose or strategize around. It's OK if your heart skips a beat. You are face to face with someone you thought was the opposition.
As the meeting commences, there is tension. Different people representing different interests and constituencies are gathered around this single long table discussing things they are passionate about– issues that impact wallets and also the quality of life for you and those like you.
Here's the hardest part to imagine: This group, with their different aims and opinions, is finding a way forward. This cannot be real, right? But it is. This is a regular occurrence, or at least it was before the pandemic. How is this happening? How did you get here?
Those are questions we'll apply to the whole of NPF's modern advocacy efforts as we explore how an organization with humble beginnings finds itself taking a seat at this crowded wooden conference table, helping to get you the health care access and affordability you deserve.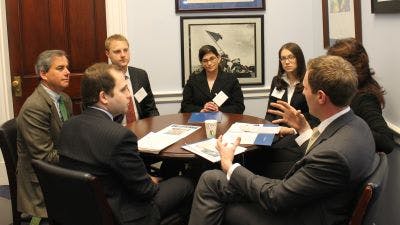 Before the Beginning
NPF was founded in the mid-1960s when Larry Foster of Portland, Oregon, took out a small ad in the classifieds. He wanted to find a community or some semblance of support for his wife, Beverly, who was dealing with the many challenges of psoriasis. This first step that proved to be so important is a far cry from the NPF you see today. But then as now, the organization was made up of committed volunteers supported by a capable staff, providing resources and services to this community while working with researchers and health care providers to find treatments and, someday, a cure.
"When the NPF thinks about how we get patients to the point where their disease is well-managed, if you look across the organization, everything that we try to do is about that," says Leah Howard, J.D., chief operating officer for NPF, which she joined in 2012. "What we've done over the 50-plus years of the organization's history is, as we've had additional resources, we've built out additional capabilities that have allowed us to go deeper in the areas of research, advocacy and education. From the very beginning 50 years ago, that was what we were talking about doing: connecting with those people who have the disease and are struggling, and helping them to improve their overall health outcomes."
Even in those early years, it was apparent to NPF that part of leading and supporting the psoriatic disease community is securing access to the insurance and treatment options they need in order to best manage this chronic disease. That's advocacy. There are a lot of ways to do it – some quite confrontational, others much more collaborative – but it all comes down to that basic idea of speaking up and acting for what you know is right and just.
"We are willing to sit down with anybody, regardless of who they are and what role they play in the health care landscape," says Randy Beranek, NPF president and CEO. "If they could possibly improve the health of our community, then we're willing to do it."
As many of you have lived it and others can imagine, the world was a different place in the 1960s, or even the 1990s, than it is today. State capitols and Washington, D.C., were very different too. So while we owe so much of NPF's successful advocacy efforts to the people who worked tirelessly in the past century for the psoriatic disease community, it's much easier to assess the role of NPF in today's world by looking through the lens of modern advocacy efforts – the ones from the current century.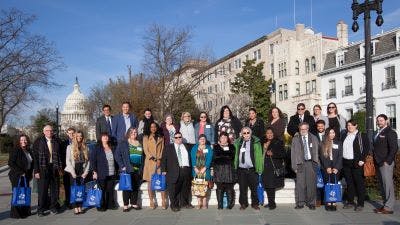 A Tale of Two Washingtons
When we look at the past 20 years or so of NPF's modern advocacy work, there are a few things we need to remember about this time. Chief among them is the fact that the Affordable Care Act (ACA) was not signed into law until March 23, 2010. This, combined with the political and economic impacts of the Great Recession – which lasted from 2007 to 2009, with ripple effects and aftershocks for much longer – acts as a line of delineation between two Washingtons.
"It was a different time in the U.S. economy, and I think it was a different time in Washington," says Howard about the pre-ACA and prerecession legislative atmosphere.
One of the most impactful results of the ACA for NPF's advocacy strategy was the establishment of state health care exchanges. Until the ACA became law, the bulk of NPF's access-to-care-focused advocacy efforts took place at the federal level, where the decisions were being made. As state exchanges came online, the playing field began to shift, although our mission remained the same. NPF stayed as focused as ever on advocating for better care and treatment options, but those efforts increasingly took place in state capitols rather than in Washington, D.C.
The Great Recession that preceded the ACA may also have played a major role in the changes Washington experienced about a decade ago. Due to myriad unfortunate circumstances, Washington, D.C., saw an increase in partisanship and an expansion of the dividing line between the country's two major parties.
In the "old" Washington of 2000-2011, there was a wealth of disease-specific legislation. As Howard explains it, bills were introduced each session, and NPF and other organizations would lobby to gain sponsors and support for legislation specific to their constituencies. Because the partisan divide was more bridgeable, it was possible to gain support from representatives and senators from either party and thus move a bill successfully into law.
The Volta: Changes in the Game
In the "new" Washington after 2011, the game itself had changed. While NPF's objective was still better access to more affordable care for people in the psoriatic disease community, the way the game had to be played shifted in a new direction. As the challenges in gaining wide bipartisan support of disease-specific legislation got bigger, forward-thinking advocacy organizations had to shift to coalition building and a broader legislative range.
NPF changed its strategies for handling legislation at the federal level because of two issues. The first issue was the growing inability to get enough support behind disease-specific legislation and the futility of introducing these bills, working for support and coming up short in an increasingly divided Washington. When you put in all that effort and it doesn't work, "you've not served the community," says Howard.
So NPF looked elsewhere to carry out portions of its strategic plan and advocacy mission. The CorEvitas Psoriasis Registry is a great example of this. In order to work toward a cure and to create successful treatment options, researchers need data. If NPF couldn't get Washington to provide that data – at least not without significant risk of failure – then the organization would do it through partnership with the CorEvitas Disease Registry.
"We had brought ourselves as an organization to a point where we no longer needed, necessarily, the federal government to step in and do these things. What we saw were a much more tailored set of activities we could ask the federal government to undertake that would be things only they could do," says Howard. NPF had evolved to the point that it was possible to engage in efforts like a joint collaboration in 2015 between the National Psoriasis Foundation and CorEvitas, LLC, a health research company that sponsors disease registries to advance medical research and improve patient care.
The second legislative issue for NPF was navigating the new and rapidly evolving state exchanges. "People with preexisting conditions all of a sudden weren't going to be discriminated against, but that doesn't mean that access was all of a sudden, 'poof,' there," says Patrick Stone, vice president of government relations and advocacy for NPF, who joined the organization in 2014 as the foundation's first state advocacy hire. His arrival at NPF coincided with a concerted shift to impacting access to care by advocating at the state level.
Coming to a Town near You
The new playing field was state capitols, which meant NPF had to find a way to impact decision-making in 50 separate locations, rather than in the marble halls of Washington, D.C. Stone packed a bag. No matter who was making the call or where the issue was being addressed, if it mattered to people with psoriatic disease, NPF had to find a way to be there. As Stone puts it, "We came from a standpoint of 'yes.'" Yes, NPF can be there. Yes, we can find volunteers to speak to that issue. Yes, yes, yes.
Many of the successes in advocating at the state level were made possible by the growing impacts of technology and data collection. As NPF worked to find, retain and train advocates across the country – using new tools and platforms – the pool of volunteers ready and willing to take action went from a dozen or so brave souls to a network of hundreds who were eager to get to work.   
"Because we have such a wide network of people who we reach with advocacy emails today, we're able to drill in and find those folks," says Julia Boles, grassroots and advocacy manager for NPF. Finding and mobilizing this group took NPF from a small advocacy group with a strong reputation in Washington, D.C., to an influential and growing organization with a potent network of advocates across the United States.
"For example, we had a representative in Pennsylvania that was holding a small roundtable about health care, and the office invited us to attend. In a matter of days, we were able to find an individual with psoriatic disease who lived in that district who we had show up," says Boles.
This big win was a turning point for NPF, and the organization captured that momentum and kept going.
Let's use that imagination again. We watch as a member of the state legislature picks up the phone to reach out to NPF. There's a bill being discussed on Thursday that could remove barriers to care, like step therapy, and the representative or senator says she needs someone in her district who can speak to their experiences with the difficulties of step therapy. Maybe it's an in-person affair, or a letter that needs to be written. No matter the ask, we know that if it aligns with the mission, NPF's answer is "yes."
Whether it's California or Missouri or Louisiana – no matter which of the 50 states – NPF can tap into its Advocacy Action Network of advocacy volunteers across the country to locate people in the legislator's region with stories that help convey to lawmakers the importance of reforming step therapy. Though not at all easy, it can be done quickly. And as you can see from the list of step therapy reform victories on our timeline of modern advocacy efforts (see page 31), the results speak for themselves.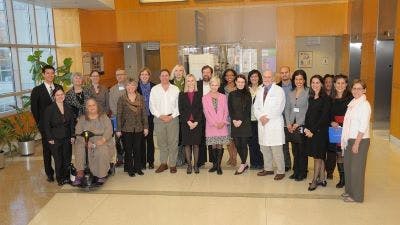 NPF Goes (Back) to Washington
With so much of the action and discussion surrounding health care moving to the state level – and with NPF's increasing capacity to execute functions that once would have been taken up by the federal government – NPF began approaching Washington, D.C., advocacy work in new and more targeted ways. For years, NPF advocacy leaders like Beranek and Howard had served in coalitions at the national level. With the reputation of NPF's coalition successes at the state level growing rapidly, it was time to put those efforts to work across the United States. "Our experience at the state level prepared us for that," says Stone. After all, if getting disease-specific legislation through a highly partisan legislature was going to be next to impossible, organizations like NPF needed to find ways to win victories for their patient populations.
As NPF continued to utilize coalitions to win step therapy reform victories in a growing number of states, the organization's reputation for collaborative and well-informed advocacy work spread. "NPF has gained a reputation as a trusted organization that gets results in D.C. and at state capitols," says Eleanor Perfetto, Ph.D., M.S., interim CEO and executive vice president, strategic initiatives, at the National Health Council. "They move legislation forward, finding bill sponsors and working alongside coalition partners and other key players in the health care sector." NPF and its gathering swarm of well-spoken and passionate advocates gained a reputation for achieving bipartisan legislative victories on complex subject matter. This positive reputation, combined with the increasingly collaborative approach to federal advocacy, positioned NPF well when the Restoring the Patient's Voice Act was introduced in the U.S. House of Representatives in April 2017. The bill sought to establish step therapy protections, which built on legislation passed in the states, an area where NPF was now among the experts.
This bill is alive today in the form of the Safe Step Act, which was introduced in 2019. The House version came in April, with the Senate taking up the bill in September of the same year.
The Safe Step Act's purpose is focused and clear: "To amend the Employee Retirement Income Security Act of 1974 to require a group health plan or health insurance coverage offered in connection with such a plan to provide an exceptions process for any medication step therapy protocol, and for other purposes." The exceptions process would give patients and their providers a pathway to bypass required step therapy drugs when they are not medically appropriate for the patient.
NPF has worked alongside a coalition of partners to help the Safe Step Act gain cosponsors in the U.S. Senate. Even during the pandemic, the list of bill cosponsors has grown. COVID-19 has even, perhaps, helped to push health care access to the front of legislative minds.
Where We Stand
Now we arrive at the NPF of today. The one with a strong, informed and growing group of volunteer advocates in all 50 states, and the one with an increasingly effective coalition helping to shape federal legislation that works for people with psoriatic disease.
It begs the question of how NPF can tackle so much. With so many states taking on the issues of step therapy reform, out-of-pocket drug costs and similar legislation, how can NPF be everywhere at once? "The challenge for any patient advocacy organization, including ours, is picking and choosing what issues you work on," says Howard, before breaking it down to four key questions. "One, does this serve the mission of the organization? Two, is this an issue we can impact through our advocacy efforts? Three, if we don't do this, will anyone else undertake the challenge? Four, are there opportunities for partnership?"
Those four essential questions serve as the guidelines for deciding which issues NPF takes up. And the active and well-informed nationwide advocacy network made possible by advances in technology is the tool with which NPF takes on the issues. "Our community is well-informed," says Stone. "They're well-read. They understand the disease. They understand their benefits. They understand what they need to do to get the best care."
It Has to Be Hard or Intimidating to Advocate, Right?
Who is an NPF advocate? The thought might conjure up images of lawyers and doctors. And NPF certainly has a lot of those. But the people who volunteer to tell their stories, and to stand up for what is right when it comes to health care access and affordability, come from all walks of life. Some are parents or friends of people with psoriatic disease. Others have psoriasis or psoriatic arthritis, and they've been moved to share their stories in the hopes of lowering drug costs and improving treatments.
Whatever the reason for being involved, an advocate's main resource is his or her own personal story. "It's not hard," says Vickie Wilkerson, an NPF advocate from Louisiana. "All you have to do is tell your story. We all have a story to tell of our journey and what we've been through."
But do legislators really listen? In short, yes.
"It's really easy to talk to legislators," says Brian Lehrschall, an NPF advocate from North Carolina. "They are just normal human beings like you and me. They put their pants on one leg at a time, just like we do."
Tami Seretti, a past winner of Volunteer of the Year for NPF and a fierce advocate for those with psoriatic disease, sees things the way Lehrschall does. "Everybody puts their pants on the same way," she says. "When you go and you talk to a legislator or one of their staff, it's really no different than talking to anyone else. It's just talking to a person."
Aside from their shared conviction that everyone has a story to tell and that it isn't overly complicated or intimidating to advocate, advocacy volunteers also have a sense of accomplishment and meaning in common. This important work does more than move the needle in state capitols or in D.C. It gives participants the valuable and rewarding feeling of helping others. "The more I get involved, the more my disease has meaning. It's not in vain," says NPF advocate Jenn Pellegrin of California. "The least I can do is advocate and give back my time to help another patient realize that, 'Hey, we don't have to live in suffering.'"
"Until I got involved with advocacy, I felt totally alone," says Wilkerson, who lacked a support network for dealing with her psoriasis until she found NPF and started advocating for herself and, ultimately, others. "Being able to help other people feel like they're not alone has been the most rewarding part of it all."
"It is what makes me feel like I'm truly making a difference on a larger scale," says Seretti.
What may be more surprising is how much difference can be made with seemingly small actions in a short period of time. While advocacy work often takes years or even decades, there are meaningful yet small wins along the way. As one of NPF's newest advocates, Seritta Norige of Florida was ready to hit the ground running when COVID-19 began to wreak its havoc. While NPF pivoted to a virtual version of the annual Capitol Hill Day Fly-in event, where advocates tell their stories and make asks of legislators and aides, Norige took on the new challenge of advocating through a computer screen by sending a message to her local representatives through NPF's action alert center. "Obviously, it was done virtually, but I was able to participate, and I got responses from my legislators in Florida, so I think that was successful."
If all of this has you thinking that maybe you should be sharing your psoriatic disease story, NPF's advocacy community welcomes you with open arms. You can find out more about getting involved and telling your story.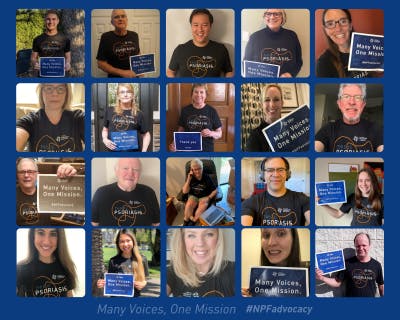 Where Do We Go from Here?
The work never stops. As step therapy reform wins pile up in states across the country, the pandemic has forced NPF and other patient-centered organizations to advocate for access to care through telemedicine. While some measures that previously made telemedicine impossible have been rolled back to increase access during the pandemic, the future of telemedicine is uncertain. It's just one of the many areas where NPF's advocacy committee, staff team and volunteers continue to find ways to make a meaningful difference for people with psoriatic disease.
The advocacy committee of NPF is made up of board members and seasoned volunteer advocates with expertise in addressing the issues of accessing affordable care. This group acts as a thought partner and guidepost for NPF. In concert with the four key questions Howard mentioned earlier, the committee members help to determine the focus and scale of NPF's advocacy efforts today and in the near future. Whether it is continued wins in step therapy reform or increasing the focus on access to care through telemedicine, the advocacy committee will play a major role in deciding where and how NPF will carry out the advocacy work of 2021 and beyond.
This fall, NPF took part in a webinar with federal legislators from Connecticut - another innovative pivot necessitated by the pandemic. Even during this politically turbulent fall, NPF was able to secure additional support for the Safe Step Act. It was another big win and another example of not letting anything get in the way of improving access to care.
We have come full circle on our virtual journey through NPF's modern advocacy efforts. We're back in that boardroom, but now you under-stand the players on the field. You see that NPF has put you in this room so you can help the industry representatives understand the impact of their decisions on your health, so you can help the legislator understand the challenges you are facing. You are side by side with other nonprofit volunteers and staff who have separate goals but similar interests because there is strength in numbers. And because a coalition will almost surely have more impact than any disease-specific entity. You feel empowered and well-informed, ready to speak up for yourself and others like you. So, when your turn comes, you clear your throat, sip your water, and advocate for the more than 8 million people in the United States who are living with psoriatic disease.