June 19, 2020
Jennifer Kerner has always been an athlete. At 16, she was a competitive equestrian and tennis player turned cross-country runner in 2000, when psoriasis reared its head. She felt targeted by the disease at such a self-conscious and body-conscious time. "The last thing you want is acne or any other skin-related monstrosity happening to you," says Kerner.
The way her psoriasis looked was not the only problem, of course. Kerner quickly became familiar with the pain so many others know intimately. "It kind of felt like fire – like a rug burn, almost – on my skin," recalls Kerner.
For most, it would be too much. Too much burning and itching. Too much trouble. The sport of running teaches its own powerful lessons on the pain of endurance. They are valuable, unforgettable lessons, but does a teenage girl dealing with the emotional and physical realities of psoriasis really need to explore the depths of her resilience and tolerance for pain, for sport?
Years later, the results of her time and effort on the tarmac are now clear, as is her skin, thanks to the biologic she has been using. In 2019, Kerner ran the Marine Corps Marathon 50K as a member of Team NPF. You read that right – 50 kilometers of pushing herself to her athletic limits. That's over 31 miles, for those of you who don't want to do the math. An ultramarathon in the most basic sense of the word. As anyone who has trained for a long distance running race knows, the real work is done before race day, with hundreds of miles run over months of dedicated, focused training so the body is primed for an epic performance on the big day.
So how did a girl from Indianapolis, Indiana, with psoriasis get into running distances most people only drive? Love of the sport, of course. "I started running cross-country when I was in high school," says Kerner. "I was horrible at cross-country. Literally, the last person from any team to cross the finish line in every race. But I love to run, so that's how I got my start."
And despite the pain, the itch and the embarrassment about the appearance of her newly diagnosed chronic disease, she persisted. Even at such a young age, Kerner had a resiliency and drive that would serve her well athletically. "It was really weird. About the time that I was diagnosed with psoriasis was about the time that I really started to come out of my shell with being a competitive athlete," she says.
Before she could cover staggering distances, she had to learn to feel comfortable in her own skin and in her newfound sport. "I think the biggest thing – and this is why I like to talk to kids, especially kids that are in middle school and high school that have psoriasis, especially with athletics – is that you are forced into this situation where you have to wear short sleeves and shorts, and the last thing I want to do is show my skin.
"I remember for one of our school dances, I wore long sleeves and pants," Kerner recalls. "I wouldn't be caught dead showing off my skin." It is a sentiment that makes perfect sense to anyone with a skin disease that others don't understand. Kerner wasn't about to admit defeat, though.
Now in her 30s, there is no sign of the teenager who covered up her skin. Kerner strides confidently over the pavement in the typical runner's "uniform," shorts and a shirt. Her steady smile bears no sign of the embarrassment she once felt.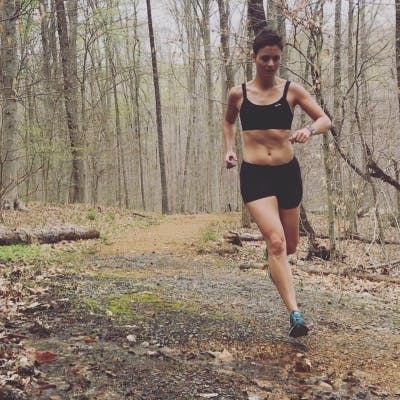 "I feel weird saying this, because I'm not a pro athlete by any means, but athletics is the best way for me to express myself, beyond what I do for work," says Kerner, who is an associate at Booz Allen Hamilton and an MPH/Ph.D. candidate. "It's a way for me to remind myself that I am resilient. I'm tough. I can do hard things, and even on bad days, the fact that you get up and you go and do this thing that you've committed to doing, that's important."
Some runners will recognize the enlightened perspective of that statement. It's something that takes years of resilience, failure and triumph to understand: hard work for hard work's sake.
The Marine Corps Marathon 50K took place on one of those days when it seemed like the weather gods were trying to tell the runners something. And that something was clear: "Don't do it." Bad weather be damned. Kerner wasn't out there alone. She was surrounded by likeminded runners, who had their own stories and their own odds to overcome. She also had Team NPF behind her. "It was awesome. It was great. I'd never run with a team before. I'd never raced and had somebody there for me," she says. "It was really fun to be a part of a group."
When a race takes almost six hours, it is reasonable to expect a quiet finish, with most marathoner and middle-distance runners long gone, but Kerner was part of a team. "I was the last one of our group to cross the finish line," Kerner says. She was the only Team NPF runner daring for the 50K distance. "People were still there – still there to hang out afterwards. It felt like this was something that I could continue to do and continue to be a part of."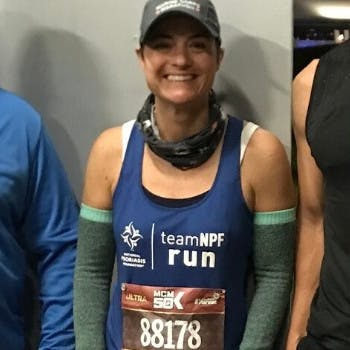 From a new runner at 16, afraid to show her skin, to an experienced ultramarathoner with a hunger to accomplish more, Kerner has truly evolved into a superhero. And she's ready to do more for people experiencing psoriatic disease. "Every time I ran a race, it was always because I want to be healthier or I don't want psoriasis to take over my life," she says. "Eventually I'd like to help train people virtually or in person who want to do these events, particularly people who have psoriasis."