December 09, 2020
What's the worst part? The itch? The embarrassment? The flaking? Everyone with scalp psoriasis has their own unique experience with the challenging symptoms of this disease, but not everyone has the same symptoms. Luckily, no matter what your unique experience is with this pesky and relentless foe, over-the-counter (OTC) shampoos can help with active ingredients aimed at addressing and soothing the symptoms of scalp psoriasis.
It's important to remember that psoriasis is an immune-mediated disease associated with systemic inflammation. That means your body and its systems are impacted by inflammation that cannot necessarily be seen by the eye. While these OTC shampoos may alleviate the symptoms of scalp psoriasis, they do nothing to address the more impactful inflammation-related symptoms. In order to reduce your risk of the comorbidities of psoriatic disease, which include cardiovascular disease and type 2 diabetes, you should work with your health care provider to develop a treatment plan that not only helps address scalp psoriasis, but also works to reduce systemic inflammation.
The National Psoriasis Foundation (NPF) created the Seal of Recognition program to help you find OTC products that are made and intended to be nonirritating for people with psoriasis and severely sensitive skin. You should consult with your health care provider about all aspects of your treatment plan, including OTC medicated shampoos.
Why Do They Work?
Primarily, these shampoo products use two active ingredients in various combinations with other ingredients that are intended to be nonirritating to skin like yours, with psoriasis.
The two active ingredients you should look for in OTC products are salicylic acid and tar (either coal or wood tar).
Salicylic acid works to soften plaques and scales and remove scales from the skin.
Tar made from coal or wood works to slow skin cell growth and reduce inflammation, itching and scaling.
These six shampoos have earned the NPF Seal of Recognition. While they may not work for all, we hope they can help you find the symptom relief you seek.
The National Psoriasis Foundation Seal of Recognition does not guarantee that individuals will not experience adverse reactions after using a labeled product. All individuals with psoriasis or psoriatic arthritis should consult with a provider to confirm that using any over-the-counter product will not interfere with other prescribed medications or therapy. Under no circumstances should the National Psoriasis Foundation Seal of Recognition be considered a replacement for advice from a health care professional.
DERMAREST® PSORIASIS MEDICATED SHAMPOO PLUS CONDITIONER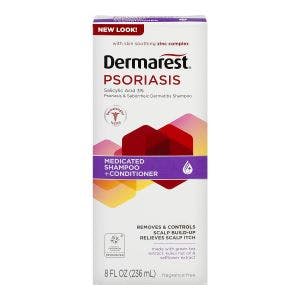 T/GEL D AILY CONTROL® 2 I N 1 DANDRUFF SHAMPOO PLUS CONDITIONER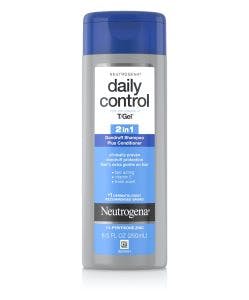 MG217® PSORIASIS MEDICATED CONDITIONING SHAMPOO – MAXIMUM STRENGTH 3 % COAL TAR FORMULA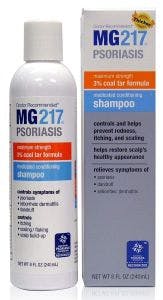 NEUTROGENA T/GEL® THERAPEUTIC SHAMPOO – EXTRA STRENGTH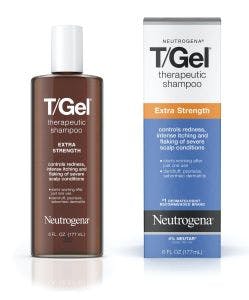 NEUTROGENA T/GEL®THERAPEUTIC SHAMPOO – ORIGINAL FORMULA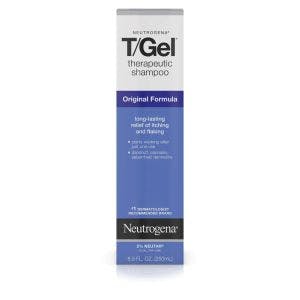 NEUTROGENA T/GEL® THERAPEUTIC SHAMPOO – STUBBORN I TCH