April 14, 2021
Each year, members of the community impacted by psoriatic disease gather in Washington D.C. to speak with lawmakers about the issues important to people living with psoriasis and psoriatic arthritis (PsA). This year, because of the ongoing pandemic, volunteers, researchers, health care providers, and NPF staff will meet with policymakers virtually by phone and video.
These volunteers and experts are not the only ones who get to make a difference for those with psoriatic disease. On April 20-21, all those impacted by psoriasis or PsA can have their voices heard by sending a message to their Member of Congress. In fact, you can send a message right now, with just a few clicks.
There are three things we want your help asking for this year. NPF has a long history of being an incredibly effective advocate for all those who experience chronic diseases like psoriasis and PsA, but our work is only possible because of the participation of people like you.
Help Us Ask Congress To:
Address pandemic-related access and funding challenges, including extending inter-state telehealth access beyond the public health emergency and supporting the RISE Act to jumpstart National Institute of Health (NIH) research projects that were stalled due to the pandemic.
Cosponsor the Safe Step Act to create commonsense guardrails for step therapy. Step therapy is an insurance protocol that requires people to try -- and fail -- a treatment chosen by their insurance company before getting the one their doctor originally prescribed.
Support a Medicare Part D out-of-pocket cap and smoothing mechanism to reduce out-of-pocket costs for seniors, especially those taking biologics. 
The issues and challenges that make these three asks necessary are complicated and nuanced, but speaking up for those with psoriatic disease is easy.
If you want more affordable comprehensive care that is easier to access, we ask that you pledge to join us on April 20-21. We will send you everything you need to share a message with your lawmaker that expresses the importance of addressing these important issues.  
Plus, as a thank you, everyone who sends a message to their lawmaker will receive this #NPFadvocacy sticker after the event: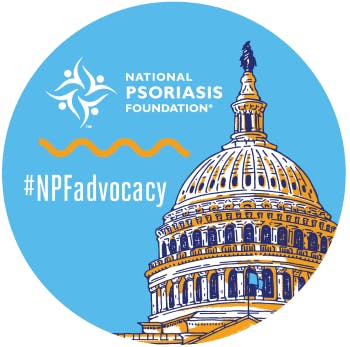 Thank you for joining us from your home for the 2021 NPF Capitol Hill Day.