February 10, 2021
As the first vaccines for COVID-19 received emergency use authorization, the National Psoriasis Foundation (NPF) COVID-19 Task Force updated its guidance to include information on vaccines for those with psoriatic disease. That guidance states that, "Patients with psoriatic disease, who do not have contraindications to vaccination, should receive an mRNA-based COVID-19 vaccine as soon as it becomes available to them based on federal, state and local guidance."
While it is wonderful to be informed by this group of experts in the fields of dermatology, rheumatology, infectious disease and critical care, we know you also want to hear from people who are just like you.
We asked those with psoriatic disease in our community to share their experiences in receiving a COVID-19 vaccine, and thankfully, several of you were willing to share.
What NPF's Community Has to Say
(comments have been lightly edited for clarity)
"I have psoriasis and take a biologic and got the COVID-19 vaccine, and all is good."
Sarah E.
"I have psoriatic arthritis and got the COVID-19 vaccine. No side effects for me. After my own research and speaking with my doctors as well as people I respect in the medical field, I made this decision, with my husband, for our family, for our friends and for our community."
Renee O. (Instagram @revampingrenee)
"I have both psoriasis and psoriatic arthritis. I have already taken the second dose of the Pfizer vaccine. I was sick for 4 days. My healthy coworkers were just as sick. I would take it again, but hopefully never have to."
Carol P.
"I have PsA and got the vaccine. No side effects besides a sore arm the day after. I am also on biologics."
Vanessa S.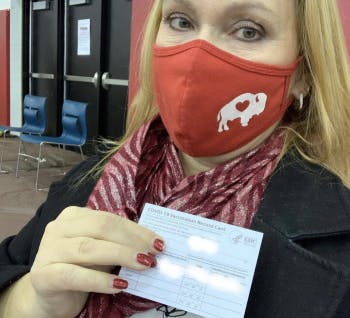 Staying Informed
As information regarding COVID-19 continues to evolve, the NPF COVID-19 Task Force will continue to update the guidance for people with psoriatic disease.
Neither this story, the comments from the NPF community, nor the guidance statements from NPF's COVID-19 Task Force are intended to replace the advice of your health care provider. If you are experiencing COVID-19-like symptoms, or if you test positive for COVID-19, seek the advice of a health care provider.