April 12, 2021
Browsing the pages of psoriasis.org, it can be just as easy to become intimidated as inspired. On the one hand, you have stories about Christian Jacobe becoming a Spartan athlete, Mandy Marquardt working toward her Olympic cycling dreams, Jennifer Kerner completing the Marine Corps Marathon 50K, and Hillel Katzeff swimming crazy distances in the open water. On the other hand, you have the realities of life for the rest of us.
We cannot all be endurance athletes at the peak of our powers. Luckily, we do not have to be.
Small, gentle movements can play a significant role in helping you manage symptoms of your psoriatic arthritis (PsA). So we've compiled a few tips and a short stretching routine you can do from the couch as you watch your favorite TV show.
The Benefits of Moving
Physical activity may help you to: [1]
Have more energy to do things that you want to do
Live longer
Lower your risk for many different diseases
Improve how your brain works
Feel happier and reduce anxiety and depression
Sleep better at night
Improve your quality of life
Improve bone health
Improve balance and lower the risk of falls
Reach or keep a healthy weight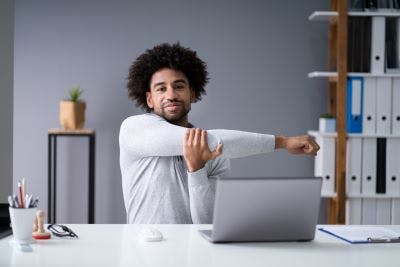 Getting Started
Always consult with your health care provider before taking on a new exercise routine. If you were active or athletic prior to developing PsA, you should try to maintain your usual routine, or stay as close to it as possible. If you are new to exercising or looking to add activity to your daily life, start small, be easy on yourself, and consult with your health care provider if any concerns or questions arise.
It's recommended that people living with PsA try low impact exercise (walking, yoga and   swimming) instead of high impact exercise (running). [2] But if exercising at all seems like too much, remember that you're looking to add activity and gentle movement, not necessarily develop a new and challenging exercise routine. You may want to consult with a physical therapist, who can help you identify appropriate, useful movements.
Start exercising for small amounts of time – for example, 10 minutes per day. Slowly build up to 30 minutes per day.
Schedule your physical activity for times of the day when you have the most energy.
Try an activity that you enjoy and that you look forward to doing.
Think of two or three different physical activities that you can do throughout the week.
Invite your friends or family members to exercise with you.
Think about the health benefits you're gaining when you're exercising.
Give yourself a day or two to recover after your workout.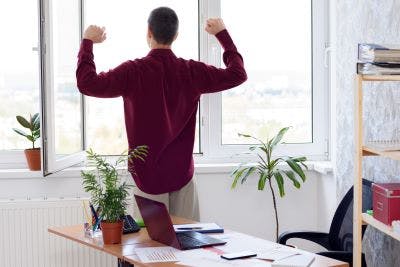 Three Simple Stretches
1. Finger Extension/Flexion
With a rubber band around the thumb and fingers, hand slightly cupped, gently spread thumb and fingers apart.
Relax the fingers back to the original position.
Repeat 10 times per set. Do two sets per session.
Do one session per day. Repeat with the other hand.
2. Shoulder Abduction
Bring arms straight out from the sides and raise as high as possible without causing pain.
Return arms to the sides.
Repeat 10 times per set.
Do two sets per session.
Do one to two sessions per day.
3. Knee Extension
With a resistance band looped around the ankle and under the other foot, straighten the leg with the ankle loop. Keep the other leg bent to increase resistance.
Return to original position. Switch the band so it is looped around the ankle of the opposite leg and under the other foot. Repeat first step.
Repeat 10 times per set.
Do two sets per session.
Do one session per day.