October 28, 2020
[Editor's Note: The NPF COVID-19 Task Force guidance statements have been updated to include information on COVID-19 vaccines for those with psoriatic disease. ]
On July 8, 2020, Dedra Pennington picked up a blackberry pie from one of her favorite bakeries. Later that evening she took a bite of the pie, expecting the sweet and slightly tart taste of the blackberries to fill her mouth. Instead, there was nothing. She could not taste the pie.
Dedra then remembered hearing that one of the symptoms of COVID-19 was loss of taste. She immediately called her daughter, Tiara Pennington, who she had been in close contact with recently.
Tiara was not just worried about her mom having COVID-19. She was also concerned how her mother's body would respond to the infection and how that might impact her psoriasis and psoriatic arthritis (PsA).
As the reigning Miss Alabama, Tiara turned the pain of a daughter watching her mother struggle with psoriatic disease into a campaign advocating for the community of people impacted by psoriasis and PsA. This advocacy went national when she graced the stage of the Miss America competition in December 2019. She placed in the top seven.
The comorbidities of psoriatic disease, including cardiovascular disease, obesity, hypertension and type 2 diabetes, also give a person a higher risk of severe COVID-19 symptoms. This concerned both women because Dedra suffered from some of those comorbidities.
Realizing this could be serious, they each got tested the next day.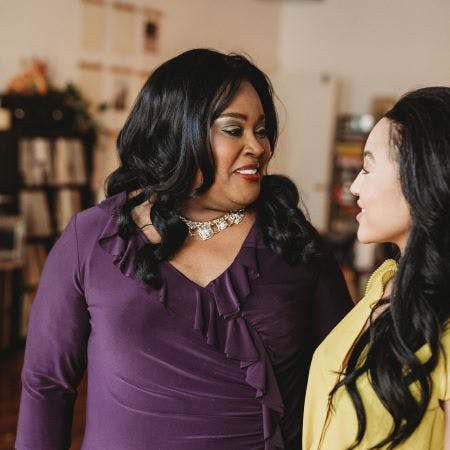 The Results
By the time the women received their positive results on July 12 Dedra's symptoms had worsened and Tiara's symptoms were undeniably not cold-like.
After testing positive, Dedra was afraid of doing anything that might weaken her immune system. She decided to stop taking her biologic while she was fighting COVID-19. She was worried that biologics could suppress the immune system and increase the risk of other infections.
[Editor's note: NPF's COVID-19 Task Force has provided 22 key guidance statements for treating COVID-19 in patients with psoriatic disease. Recommendation 2.1 addresses taking biologics with COVID-19: "It is not known with certainty if treatments for psoriasis and/or psoriatic arthritis meaningfully alter the risks of contracting SARS-CoV-2 (the virus which causes COVID-19 illness) or having a worse course of COVID-19 illness. Existing data generally suggest that treatments for psoriasis and/or psoriatic arthritis do not meaningfully alter the risk of acquiring SARS-CoV-2 infection or having worse COVID-19 outcomes."]
Dedra told her doctor, who then told her that there was a chance that stopping her medication could trigger her psoriatic symptoms to flare up but that ultimately it was ok to do.
Then something surprising happened.
"For a month, I wasn't taking the biologic. I had no pain. Not at all. It was really strange," Dedra said. Though her symptoms would return soon, she had some temporary relief.
Both women had a fever, nausea and a bad headache that stuck around for 14 straight days. Tiara experienced extreme fatigue, which left her unable to get out of bed at times.
What They Did
The two women had a "better safe than sorry" mindset when it came to practicing social distancing, wearing a mask and going out in public, so pinpointing where coronavirus was contracted is impossible.
To combat their symptoms, both women took Tylenol, got plenty of rest and used ice packs and drank fluids to bring their fevers down. Dedra also said that using saltwater solution to flush her nasal passages gave her some relief from the bad headaches and nasal congestion.
Remember, when it comes to treating COVID-19, you should only follow the advice of a qualified health care provider.
Recovering
After fourteen days, most of Dedra and Tiara's symptoms disappeared. However, they each experienced some residual effects of COVID-19.
Despite reporting no pain while sick with COVID-19, two weeks later Dedra's PsA symptoms returned.
"I'm having more joint pain," Says Dedra. "Ironically these symptoms weren't what I experienced during COVID."
Dedra and her rheumatologist are discussing a new medication to combat this pain and the high inflammation she has been experiencing.
The fatigue Tiara experienced lessened after 14 days but did not fully go away for another few weeks.
Tiara has returned to the University of Alabama after taking last year off to fulfill her Miss Alabama duties and prepare for the Miss America competition. She is taking online classes and even her sorority duties are being carried out virtually.
Because Tiara was the 2019 Miss Alabama and the Miss America competition was cancelled due to COVID, she gets to serve as Miss Alabama 2020 now too.
Tiara admits that virtual learning has been a "little weird," but she is thankful to be back in school. COVID-19 has reaffirmed to Tiara what matters in life. "What is important is family and health," she said.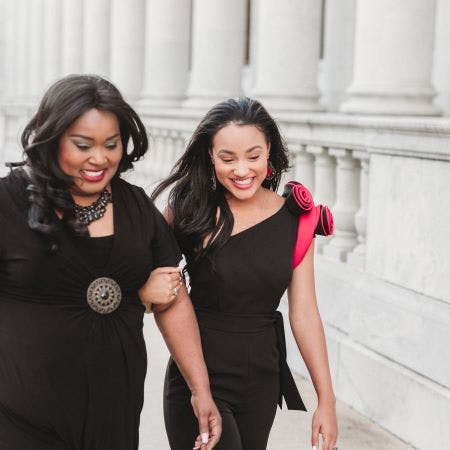 NPF COVID-19 Guidance
In response to the pandemic, NPF formed a COVID-19 Task Force that issued key guidance statements for the management of patients with psoriatic disease during the COVID-19 pandemic. These guidance statements are intended to be part of a "living" document that will be updated and amended when necessary by the rapidly evolving science of COVID-19.
Neither Dedra's story nor the key guidance statements from the NPF COVID-19 Task Force are intended to replace the advice of your health care provider. If you are experiencing COVID-19-like symptoms, or if you test positive for COVID-19, seek the advice of a health care provider.