May 19, 2020
Chris Jones of Toms River, New Jersey, is no stranger to psoriatic disease. The first signs of psoriasis appeared in 2002 while she was pregnant with her first child. It was already a stressful time – her mother died while she was pregnant, and it was the aftermath of 9/11. Her dermatologist gave her the diagnosis by the end of the year. By the end of the following year, she had also been diagnosed with psoriatic arthritis (PsA).
"The psoriatic disease seemed to come out of nowhere," Jones says. She's adopted, with no knowledge of her birth family or their medical history. "I didn't know what psoriasis was! Almost overnight my skin was covered."
Jones reports that it took a very long time to get her psoriasis under control. She was hospitalized several times and had many infections. However, when she was diagnosed with PsA, "we got that under control really quickly."
She uses words such as "severe" and "tenacious" to describe her psoriasis. She has all five types – plaque, pustular, guttate, inverse and erythrodermic. Plaque predominates. She has never had a single day of total clearance. 
"A good day is when there is no oozing, bleeding or cracking," Jones says. She's learned some important lessons over time: "When to shower, how to do self-care, how to manage emotionally, how to lessen my stress. I know how to adapt. I also know my limits."
Jones joined the National Psoriasis Foundation in 2004. She is a Psoriasis One to One mentor. She volunteered in 2013 to serve on a patient advisory panel put together by the editor of NPF Advance at that time, Tamara Miller. "Tamara would run story ideas by us and ask for our ideas on what would we like to see in the Advance." 
Jones describes herself as a "big believer in helping out with research." She has participated in the National Psoriasis Victor Henschel BioBank and in studies run by researchers who will be familiar to the NPF community: Nehal Mehta, M.D., and Joel Gelfand, M.D. In fact, the list of doctors Jones has worked with reads like a Who's Who of NPF medical board members, past and present: In addition to Mehta and Gelfand, there's Alice Gottlieb, M.D., Ph.D., Jerry Bagel, M.D., and her primary doctor, rheumatologist, Alexis Ogdie-Beatty, M.D.
Six Scary Words in 2020: 'A Nursing Home in New Jersey'
Jones' father, John, is 78 and a resident of a long-term care facility. He was not in the best health in early March, as he already had diabetes and some cardiac issues. In that month, he started showing signs of a fever with a persistent cough. "He was showing symptoms of the coronavirus for at least a week before he was tested," Jones says. The facility placed him in isolation in his room, where he had no phone or internet access.
"We couldn't talk to him," she says. "Pop usually receives calls at the nurses' station in his unit. When he was in isolation, that meant he was prohibited from leaving his room, even for phone calls. This made it impossible for us to find out directly from him how he was doing."
They went two weeks without any contact. They were scared. "We live in New Jersey. We'd been hearing all the rumors about nursing home scandals and bodies piling up in morgues," she says, referring to the widely reported stories of COVID-19 in New Jersey nursing homes.
The family was finally able to visit John Jones, but only by standing outside his window. "Fortunately, he comes from a sturdy, long-lived family," Jones says. "But my stress level went through the roof. I'm an only child, my father doesn't have many relatives left, and I have to make all the decisions. I'm going through a pretty bad flare right now. And this is already a stressful time."
She estimates her father was sick for about a month. "He's out of the woods now, and we're happy, but we keep waiting for another wave of infections to hit."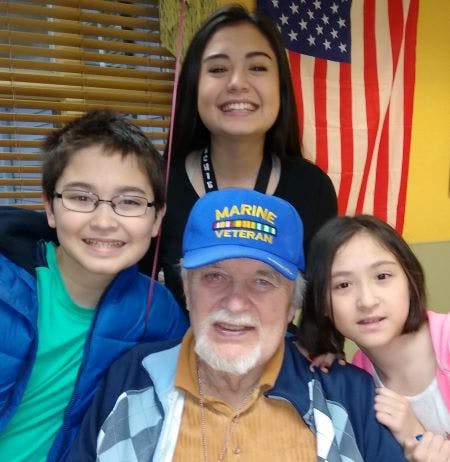 How NPF Helps
"I'm trying to practice self-care," Jones says. "One to One helps because keeping someone else's spirits up helps me keep my spirits up."
It was during this time that Jones discovered our podcast series, Psound Bytes. The first podcast she tried was episode 64, "Coronavirus and Psoriatic Disease: Your Questions Answered." She enjoyed the episode and plans to listen to more.
John Jones has made a full recovery. At the time of this interview, Chris Jones was back to the everyday challenges of sheltering at home in the apartment she shares with her husband, their three children, two cats and a hamster. But she's still dealing with the fallout from the stress of her father's illness and the effect that has had on her psoriasis. (To learn more about how to care for those in your life with psoriatic disease, request our free booklet.)
"I have a pretty tough case, but I try to have a sense of humor about it," she says. "If I don't, what else is there?"