June 28, 2021
For thousands of years, people have used tattoos to express rites of passage, devotions of love, spiritual and religious symbolism – an outward show of their values and beliefs. People who have psoriasis showing on their skin are no different.
Reliable data on the exact number of people with at least one tattoo are tough to come by, and data on the number of people with psoriasis who have tattoos are nonexistent. Data aside, there are plenty of people in this community with tattoos, so NPF Advance sat down with three women sporting ink to get their stories.
Hannah Williams, 24, Liverpool, England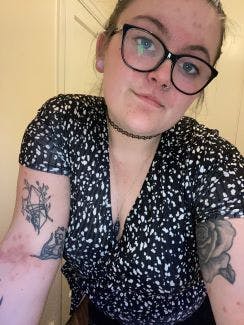 Hannah Williams has accumulated 14 tattoos in just six years. Some tattoos have special meaning, like a semicolon tattoo that represents the struggle of mental illness she and people close to her have faced. For other tattoos, she just liked the design, she says.
"For example, I have Peter Pan, The Lost Boys and Beetlejuice because they're some of my favorite films, and then there are tattoos like [my] semicolon tattoo," says Williams.