Humanized Anti-BAMBI mAb, a Novel Therapy in Psoriatic Arthritis, From the Bench to the Clinic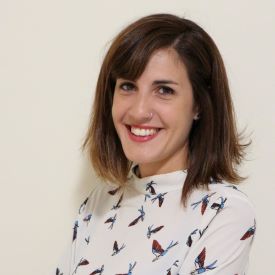 Principal Investigator: Victoria Casado-Medrano, Ph.D.
Institution: Inhibitec-Anticuerpos S.L.

Grant Mechanism: Translational Research Grant
Funding Amount: $196,725
Project Start Date: August 1, 2023
Project End Date: July 31, 2024
Status: Active
Keywords: Psoriasis, Psoriatic Arthritis, Animal Models, Clinical Research, Drug Therapy, Immunology, Inflammation


Project Summary:
Psoriasis and psoriatic arthritis (PsA) are chronic inflammatory diseases of the skin and joints. Although several therapeutic options have been developed in recent years against these diseases, around 1/3 of PsA patients these new treatments do not reach the minimum level of efficacy. Therefore, the discovery of new drugs to offer alternative treatments to PsA patients is essential. lnhibitec-Anticuerpos S.L. has identified a new molecule involved in PsA, BAMBI, and produced an antibody anti-BAMBI, that inhibits it with therapeutic effect on psoriasis and PsA mouse models. lnhibitec has also demonstrated that the novel and disruptive mechanism of action of anti-BAMBI treatment improves its clinical efficacy in psoriasis in comparison to current therapies. Therefore, in this resubmission Grant, we plan to develop and scale up the production of the humanized anti-BAMBI, to further analyze its pharmacological features and to carry out the toxicology analysis required prior to patient administration.
How will your project help improve the lives of the 125 million affected by psoriatic disease?
lnhibitec's therapy, a first-in-class humanized anti-BAMBI mAb, will bring to the market a revolutionary approach like no other biological drug treatment for psoriatic diseases. Firstly, our unique antibody inhibits BAMBI, a target never used before against psoriasis and PsA development. Secondly, its mechanism of action represents an innovative technological advance itself, as the therapeutic effect of anti-BAMBI mAb goes beyond just blocking a specific molecule. Inhibiting BAMBI impacts upstream TGFB signaling intensity which makes a shift on CD4 T cell differentiation with a dual effect on the immune system. A reduction in Th17 cells, the main cells responsible for the inflammatory processes, and, at the same time, an increase in the protective regulatory T cells, a subpopulation restraining Th17 cells and many other proinflammatory cells. While current biologicals are only focused on blocking a few pro-inflammatory mediators, which leaves out around 40% of PsA patients (who did not respond satisfactorily to them), we foresee a broader and better therapeutic coverage for our disruptive mechanism.
Why is psoriatic disease research important to you, personally? What role will this award play in your research efforts or career development?
As a translational researcher, it is truthfully satisfactory being able to bring a new therapy from the lab to the clinic. Since I joined lnhibitec I have been able to learn and understand first-hand how difficult life is for those affected by psoriasis and PsA, both physically and mentally. At lnhibitec we are very committed to making a positive impact on the field by providing a better therapeutic option for them.
Personally, this research award means an enormous impulse on my research efforts and career development, as it is my first funding as a principal investigator.






Researcher Profile:
Dr. Casado-Medrano is a senior researcher with extensive expertise in Molecular Biology, Pharmacology, and Oncology which contributes to her strong background in Translational Medicine. Although she has developed her scientific career in an academic environment, during her postdoctoral training, first as a Max Planck Society fellow (Berlin, Germany) (2014) and later at the Department of Systems Pharmacology and Translational Therapeutics at the University of Pennsylvania (PA, USA) (2015-2020), she has been progressively approaching with her research towards the clinic and trials with patients. Proof of that was her role as Clinical Research Associate in the Pediatric Translational Thyroid Cancer Laboratory (The Children's Hospital of Philadelphia) (2020-2022). Since April 2022, she has been working as lnhibitec's scientific lead. This position is the perfect opportunity to directly apply her previous experience in academy and translational research into the pharma industry. lnhibitec's goal is to bring a new therapy based on anti-BAMBI monoclonal antibody to psoriasis and psoriatic arthritis patients.