Multi-omic Diagnostic Test for Psoriatic Arthritis in Psoriasis Patients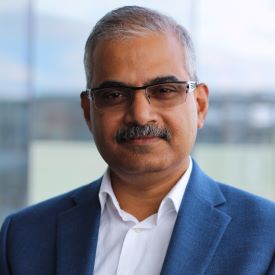 Principal Investigator: Vinod Chandran, MBBS, M.D., D.M., Ph.D.
Institution: University Health Network

Grant Mechanism: Psoriatic Arthritis Diagnostic Test Grant (Priority Mechanism)
Funding Amount: $300,000
Project Start Date: July 1, 2021
Project End Date: June 30, 2024
Status: Active
Keywords: Psoriatic Arthritis, Biomarkers, Computational Biology, Gene Expression, Multi-omics


Project Summary:
Psoriatic arthritis (PsA) is an inflammatory arthritis affecting patients with psoriasis. PsA is difficult to diagnose; delayed diagnosis leads to poor outcomes. A diagnostic test will help facilitate accurate and early PsA diagnosis. Our preliminary data strongly suggest that a diagnostic test for PsA will need to combine easily identified clinical features with biological markers (genes/gene products, proteins, metabolites) into a PsA diagnostic signature (PsADS). We have already confirmed high priority gene, protein, and metabolite markers for PsA. We now intend to develop accurate and robust lab tests to quantify these markers, and then confirm that the combination of clinical data with these markers accurately predicts the presence of PsA in psoriasis patients. We will also develop a portal that will help clinicians interpret the results of the diagnostic signature. The PsADS will then be ready for formal evaluation in primary care, dermatology, and rheumatology clinics. It will have the potential to improve clinical processes, by providing means to early diagnosis, limit use of unnecessary tests, and thus lead to improved patient-centered psoriatic disease management.
How will your project help improve the lives of the 125 million affected by psoriatic disease?
Psoriatic arthritis affects about 1 in 3 patients with psoriasis. Early diagnosis of psoriatic arthritis leads to better long term outcomes. By facilitating early diagnosis of PsA in psoriasis patients, it is hoped that patients with early psoriatic arthritis are treated appropriately leading to better long term outcomes.
Why is psoriatic disease research important to you, personally? What role will this award play in your research efforts or career development?
Psoriatic arthritis is a fascinating multi-faceted disease. I have seen how the disease can have devastating effects on patients with psoriasis. However, much of the assessment of psoriatic arthritis is based on subjective assessments and my goal is to use modern biomarker based approaches to identify and treat psoriatic arthritis. This award will provide a clear pathway for me to identify a diagnostic signature, and set the stage for further validation.


This grant was made possible by contributions from William "Bill" and Jodi Felton, AbbVie, and Amgen.





Researcher Profile:
Dr. Vinod Chandran is a rheumatologist and clinician-scientist affiliated with the Schroeder Arthritis Institute, and the Departments of Medicine, Laboratory Medicine and Pathobiology and the Institute of Medical Science, University of Toronto. He holds an M.D./Ph.D. with specialties in internal medicine, immunology, rheumatology and genetic epidemiology.
Dr. Chandran currently serves as the Co-Director of the Psoriatic Arthritis Research Program at the University Health Network. His research interests focus on the development of biomarker-based strategies to improve early diagnosis and prognosis of psoriatic disease, as well as identify novel treatment targets through proteomics and mechanistic studies and strategies to reduce its impact on society.
Dr. Chandran's research has been supported by grants from the Canadian Institutes of Health Research (CIHR), The Arthritis Society, the Krembil Foundation, the Arthritis Research Foundation, and the National Psoriasis Foundation. He has published extensively (>200 articles) on genetics/genomics/proteomics and clinical aspects of psoriatic disease classification, and his H-index is 59 (Google Scholar).