A Humanized Murine Model to Examine Inadequate Response to Anti-TNF Agents in Psoriatic Arthritis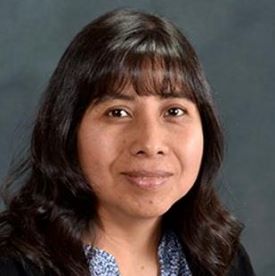 Principal Investigator: Maria Garcia-Hernandez, Ph.D.
Institution: University of Rochester

Grant Mechanism: Translational Research Grant
Funding Amount: $200,000
Project Start Date: August 1, 2023
Project End Date: July 31, 2024
Status: Active
Keywords: Psoriatic Arthritis, Animal Models, Biologics, Basic Science


Project Summary:
Significance: Psoriatic Arthritis (PsA) medications relieve inflammation and prevent joint damage in patients. However, some patients do not respond to current treatments showing extensive joint deterioration. Thus, new treatments are needed to prevent disability.
Proposed study: We generated a humanized PsA mouse model resembling human PsA. Mice had an accumulation of IL32-producing CDS T cells in the joint, which enhanced local inflammation. Thus, we propose to 1) analyze blood cells collected from patients before and after receiving TNF inhibitors (TNFi). 2) Inject mice with blood cells and sera from patients resistant or responding to TNFi to analyze changes in blood immune cells and genes in the mouse joints using cutting-edge technologies 3) Treat TNFi non-responder mice with IL-32 inhibitors.
Outcome: This study will reveal 1) the effects of TNFi on blood cells and signals that sustain joint inflammation in TNFi non-responders, 2) To test if IL-32 inhibitors prevent joint damage.
How will your project help improve the lives of the 125 million affected by psoriatic disease?
The transition from psoriasis to psoriatic arthritis is lengthy, heterogeneous, and unpredictable. Thus, a major clinical challenge is the discovery of new markers to predict the transition from psoriasis and psoriatic arthritis. Once psoriatic arthritis is diagnosed, the next challenge is selecting adequate therapies to successfully induce stable disease remission. Currently, anti-TNF therapy is the first line of therapy for PsA patients. Unfortunately, a significant fraction of patients experienced inadequate or non-response to TNF inhibitors. Therefore, these new mouse models of psoriasis and psoriatic arthritis, by recapitulating individual disease phenotypes, hold the promise to define the underlying cellular and molecular mechanisms that underlie inadequate treatment response and offer a novel model to identify personalized treatments for patients unresponsive to TNF inhibitors.
Our previous data using psoriasis and psoriatic arthritis humanized mice revealed increased expression of IL-32 in humanized PsA mice. Thus, we will test, for the first time, whether IL-32 blockade in humanized mice decreases the expression of TNF, IL-1, 11-6, and IL-17, which are essential cytokines maintaining systemic and local inflammation. If this treatment provides positive results, we will design a clinical trial to confirm that IL-32 blockade might be a new alternative therapy for psoriasis and psoriatic arthritis patients with poor responses to current biologics.
Why is psoriatic disease research important to you, personally? What role will this award play in your research efforts or career development?
I am interested in studying psoriasis and psoriatic arthritis because several members of my family are affected by both chronic inflammatory diseases. I have noted the frustration when the current therapies do not have the expected effect. They not only promote emotional distress from the abnormal appearance of their skin and pruritis but also joint pain and impaired mobility in those patients with arthritis. Thus, I am excited to apply the psoriasis and psoriatic arthritis humanized mouse model to test personalized therapies and to alleviate the psychological and clinical stigma of psoriasis and psoriatic arthritis.
The current award is fundamental to evaluate local and systemic immunity in patients with poor response to the current biologic therapies and evaluate disease progression in the absence of IL-32, a cytokine that modulates the secretion of key proinflammatory cytokines involved in disease pathogenesis and maintenance. The data generated with this grant provide preliminary data to apply for a collaborative R01 and provide the scientific rationale for initiating clinical trials using anti-IL-32 or other inflammatory molecules identified in the proposed studies.







Researcher Profile:
Maria de la luz Garcia-Hernandez, Ph.D., is a Research Assistant Professor at the University of Rochester. Dr. Garcia-Hernandez's research efforts are focused on understanding the immunological mechanisms implicated in the transition of psoriasis to psoriatic arthritis with the long-term goal to prevent joint damage and patient disability. She is also testing different antibody-based therapies in a novel humanized mouse model of psoriasis and psoriatic arthritis in an effort to develop new therapies for patients refractory to conventional treatments.