Education
February 07, 2023
Psoriasis in Skin of Color
Psoriasis is usually more extensive and severe in skin of color. Hear dermatologist Dr. Mona Shahriari from Central Connecticut Dermatology address why and how psoriasis presents in skin of color, the potential for misdiagnosis, hyper/hypopigmentation, cultural beliefs, and cautions to consider when treating psoriasis in skin of color.
Maintain skin health with tips for your skin-care routine and NPF-recognized over-the-counter products. Request your Skin Care E-Kit today.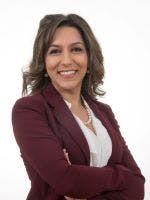 Dr. Mona Shahriari, Central Connecticut Dermatology
Skin of Color Resource Center
Learn more about psoriasis and skin of color at the NPF Skin of Color Resource Center.
Visit the Resource Center
This program is supported by educational grants from Amgen, Bristol Myers Squibb, CeraVe, Janssen, and UCB.