Your Care Team
Why a care team?
Due to the complexity of psoriatic disease, it takes a team of health care providers to help make sure your treatment plan is managing your symptoms and helping you avoid related diseases (comorbidities) such as heart disease, obesity and depression.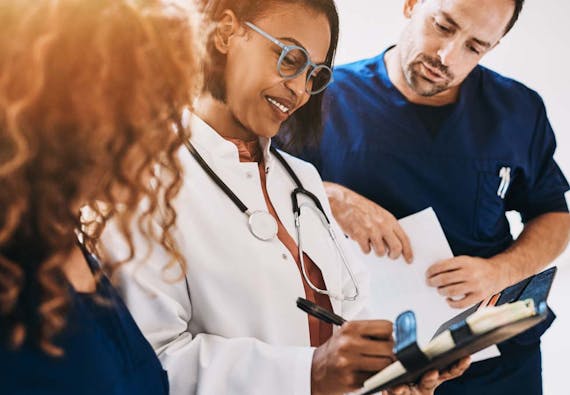 Depending on your unique situation, you may need to build a team of doctors and other health care providers to best manage your disease and help you thrive.

Dermatologist
This specialist helps you treat and manage your psoriasis.

Rheumatologist
This specialist helps you treat and manage your psoriatic arthritis.

Primary Care Provider
This provider helps you maintain your overall health, including screening you for comorbidities.

Pharmacist
This expert can help you develop a plan to follow your provider's treatment recommendations, ensuring that multiple medications may be taken safely and suggesting beneficial over-the-counter items.

Advanced Provider
From general care to helping you get the most out of your treatment, advance providers, which includes (but is not limited to) nurse practitioners and physical therapists, will help you to thrive in life with psoriatic disease. 
Appointment Prep Kit
Request a free kit to help you prepare for your next medical appointment.
Get the kit