Investigating the Relationship Between Psoriasis Phenotypes and Psoriatic Arthritis Relapse Presentations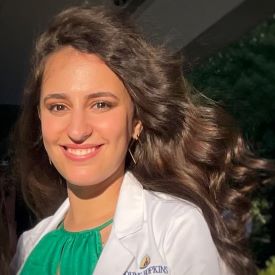 Grantee: Christeen Samuel, B.A.
Mentor: Ana-Maria Orbai, M.D., M.S.
Institution: Johns Hopkins University School of Medicine

Grant Mechanism: Summer Student Research Grant
Funding Amount: $5,000
Project Start Date: May 13, 2023
Project End Date: July 22, 2023
Status: Active
Keywords: Psoriasis, Psoriatic Arthritis, Clinical Research, Biologics, Clinical Severity Measures, Patient-Reported Outcomes


Project Summary:
Psoriatic arthritis (PsA), which is an autoimmune disease that causes arthritis (joint inflammation), enthesitis (tendon and ligament inflammation), sausage digits (swollen entire finger or toe), and spondyloarthritis (spinal inflammation), presents in about 6% to 40% of patients with psoriasis. The type, location, and extent of skin involvement vary considerably among PsA patients. Skin and joint disease in PsA may indeed share a common underlying process. However, psoriasis subtypes, including plaque, guttate, pustular, inverse, and erythrodermic, have been shown to differ in their inflammatory markers. These variations impact their treatment response and disease activity. Some of the available treatments for PsA are more beneficial for controlling the joint symptoms, while others are more effective at targeting the skin. Currently, we do not know how psoriasis subtypes affect specific relapse symptoms in PsA patients receiving guideline-based therapy. In this study, we aim to investigate whether there is an increased risk of developing specific PsA manifestations, such as sausage digits, based on types of psoriasis presentations over time.


Career Development Statement:
I am currently a third-year medical student at Johns Hopkins School of Medicine. I am interested in a career in dermatology, hoping to hone my experience in psoriasis research and ultimately lead a psoriasis clinic. I am particularly curious about the evolving repertoire of comorbidities associated with psoriatic disease and the increasing need for collaborations among different specialists, including dermatologists, rheumatologists, and cardiologists. This research project would help me explore the intersection of dermatology and rheumatology through investigating psoriasis manifestations in a cohort of patients with psoriatic arthritis. I am hoping to build my connection with the NPF community to further my learning of research innovations and disease management.